A WORD FOR TODAY 27 MAY 2020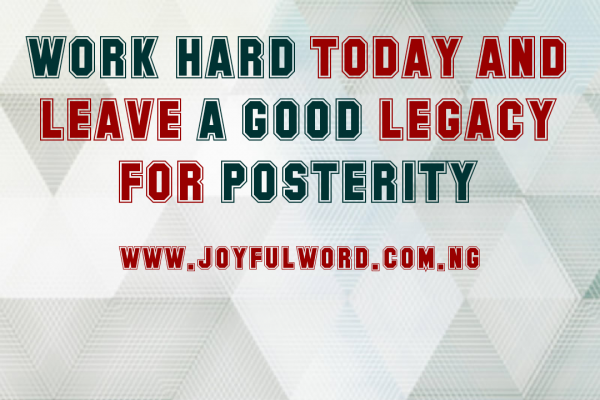 A WORD FOR TODAY
WORK HARD TODAY AND LEAVE A GOOD LEGACY FOR POSTERITY
"I coveted no one's silver or gold or apparel. You yourselves know that these hands ministered to my necessities, and to those who were with me. In all things I have shown you that by so toiling one must help the weak, remembering the words of the Lord Jesus, how he said, 'It is more blessed to give than to receive." (Acts 20:33-35)
Listening to the speech of Saint Paul to the Christian community in Ephesus as we just heard in the first reading, one will definitely see a man who has left a good legacy for the people to emulate. Infact, they all shed tears after his speech, first because of the impact of of his words in their heart and secondly, because they will never see him again. He did tell them the truth to stay at alert so that they will not be deceived by those who are agents of darkness.
This life is one that is precious and has no duplicate and most importantly it is very limited, therefore, what you do with it matters a lot. You are not here on earth for a joke. There is a reason why God made you come, if you fail to discover the purpose why you are here, you may end up walking through this life without leaving a positive mark in the sand of history when you have gone.
St. Paul was proud of what he has achieved as a minister of the gospel among the people of Ephesus and the same could be said about other Christian communities he evangelized. What will be people's reaction about you when you are no more? Will it be tears and pain that a good person has gone who has left an indelible mark through his good work or will it be that of joy and gratitude to God that a wicked and troublesome person has left the scene and people can now have peace and serenity? It will simply depend on the choice you make and the path you decide to follow.
Our Lord Jesus Christ worked hard and finished his race on a high and positive note. The same could be said of the apostles too. Today we hear Him in the gospel reading pray for us that we may not fall away, but hold unto the faith until the end. We are presently enjoying probably what others have worked for, but the world in the future should enjoy what you will be leaving behind now and this is the time to begin to create beautiful and positive legacies that future generation will remember you for.
You do not need much to start to do good, you only need the will, determination and commitment to always light a candle with your words and deeds wherever and whenever you see darkness so that people could see with it. You must make decision, to be the peace maker when people beat drums of war, to forgive when people hurt you, to be the food and drink that the hungry will eat to be satisfied and quench their thirst. You must mentor people to do good and live well. You must show good example and you must not be lazy, but tap into every genuine and wonderful opportunity out there to help you develop and empower yourself so that you will have the capacity to empower others who will in turn empower some others more even when you must have passed on to great beyond.
Good morning dearest one. Smile😊as you do your work and do have a beautiful day. May God help you to live well so that many will emulate you and your legacy will live on after you have passed on. Amen. And may the Almighty God bless you: the Father and the Son and the Holy Spirit. Amen.
Meditation: Acts 20:28-38/Psalm 68:29-30,33-36/John 17:11-19
Watch-Word: Your word, O Lord, is truth, sanctify us on the truth.
Keep doing good, because the world will remember you for your goodness when you must have returned back to your creator.*_
(Wednesday of the Seventh week of Eaater. Cycle A.)