A WORD FOR TODAY 27 NOVEMBER 2020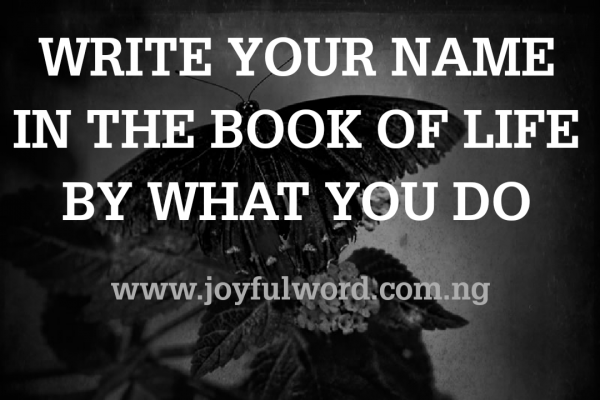 A WORD FOR TODAY
WRITE YOUR NAME IN THE BOOK OF LIFE BY WHAT YOU DO
_"And I saw the dead, great and small, standing before the throne, and books were opened. Also another book was opened, which is the book of life. And the dead were judged by what was written in the books, by what they had done."(Revelation 20:13)_
The life we live here on earth is not the end of life, because there is another life after this life, but those who will be admitted into this new life will only be those who have been judged and found worthy in accordance with the Lord's commandment.*_
_Saint John tells us in the first reading of today that the book of life was opened in the revelation he got and that the people were judged based on what was written in it. This is something we must hold dear to the heart as we journey here on earth._
A time of judgement must surely come and the best way to be found worthy when that time comes is to do the things that will be pleasing to the Lord. We must, through our words and actions write our names in the book of life.*_
In the end, there will be eternal life for those who have lived their lives well here on earth and eternal punishment for those who chose other gods above the living God.
_*Make sure that your name is written in the book of life so that when the roll call will be taken, you will be among those who will be found worthy to reign with Jesus in the 'new Jerusalem'*_
The only way to write your name in this book is to do good and live righteously. Show compassion and be kind. You must hate injustice and you will be ready to lay down your life for others to live. Just keep following the way of Christ and you will be found worthy when the Lord comes again.
_*Good morning dearest one. Smile😊as you do your work and do have a blessed day. May Jesus help you to live well so that your name will be written in the book of life. Amen. And may the Almighty God bless you: the Father and the Son and the Holy Spirit. Amen.*_
*Meditation:* Revelation 20:1-4,11-21:2/Psalm 84:3-8/Luke 21:29-33
*Watch-Word:* Heaven and earth will pass away, but my words will not pass away.
*What you do today, can take you to heaven or stop you from entering into it. Choose and act wisely always.*
(Friday of the Thirty fourth week in the ordinary time, year II)