A WORD FOR TODAY 28 FEBRUARY 2020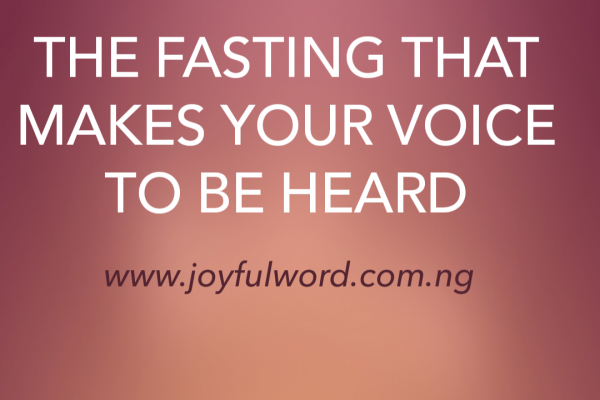 A WORD FOR TODAY
THE FASTING THAT MAKES YOUR VOICE TO BE HEARD
It is one thing to say something or to perform an act and it is another for what you said or your action to get the attention of the one whom it is directed to. If your speech and act is going to make an impression in the heart of the one who hears you or sees you, it must follow certain laid down pattern and structure.
Fasting and abstinence is an integral part of the lenten season. Fasting is a spiritual exercise and discipline by which we give up food of our choice voluntarily for a specific period of time. Our Lord Jesus Christ fasted for forty days and forty nights as recorded in the Scriptures and the gain of that experience was tremendous.
Fasting is not about food alone, it can also be about drinks, attitudes and habits that needs to be changed. The essence of fasting is to help us conquer our flesh and all it desires, so as to let our soul and spirit soar higher to the glory of the Lord. It helps us in self-control, to pray well and to focus on the things of God. The desires of the flesh, we know, are always different from the desires of the Spirit.
The Lord tells us in the first reading of today that the kind of fasting He accepts is that which does not oppress the poor and the needy, but helps them. It is a day to feed the hungry, cloth the naked, help the homeless to find a shelter and sets the captives free. To fast is not the issue, but the motive of the fasting counts more than the fast itself. If your fasting does not feed the hungry, cloth the naked and help you to grow in holiness, then it is not a true fast and your voice will not be heard by God.
Our day of fasting is a time of prayer and we must not make it a day to quarrel, to be selfish or be wicked to others. It should be a day to do good and to let God's light shine through us. It is only in this way that we can call and the Lord will hear our voice and grant our petitions. If you must fast, make it a day to do good and God will surely hear your prayers
Good morning dearest one. Smile😊as you do your work and do have a beautiful day. May Jesus help you to fast and abstain in a manner that will be acceptable to Him and may your fasting and prayers open the doors of heaven for you. Amen. And may the Almighty God bless you: the Father and the Son and the Holy Spirit. Amen.
Meditation: Isaiah 58:1-9/Psalm 51:3-6,18-19/Matthew 9:14-15
Watch-Word: Then you shall call and the Lord will answer!
Use your fasting days to do good and your light will shine and God will hear you when you call.*_
(Friday after Ash Wednesday)