A WORD FOR TODAY 28 JULY 2019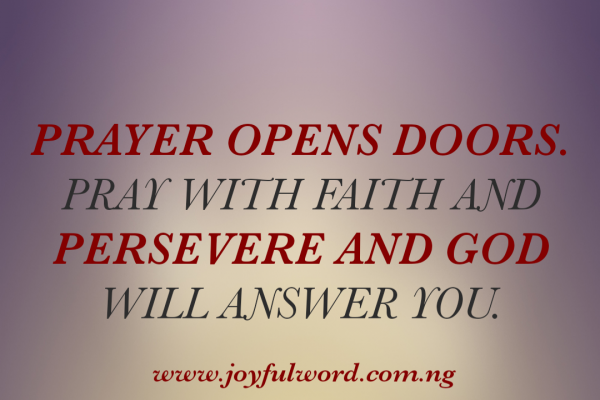 A WORD FOR TODAY
There is power in prayer and those who neglect prayer does so at their own disadvantage. Prayer is the channel through which we communicate with God, praise His name and make Him know of our needs. When we pray with faith we will definitely get a response from the Lord who is ever ready to hear us when we call upon His name.
Abraham in the first reading of today prayed fervently to God and made intercession for the people of Sodom and Gomorrah. He stood in the gap between God and the people, because he was a good man with no selfish intent. We must learn from this reading to pray not just for ourselves but for the needs of others especially that those who are in darkness will come to the light of God.
He persevered in His intercessory prayers before the Lord for the people and God promised to save the city if He found a few righteous persons. This goes to show that God is always looking out for us to turn away from our sins so that we could be saved. He is a merciful and patient God, but He is also a just judge. Our responsibility is to pray, but it is God who answers prayers and He does so according to His will and at His own time. He may not give us what we ask for, but whatever He gives us and when He chooses to give us will always be the best.
In the gospel reading of today, Jesus teaches His disciples the simple way to pray and to make presentation of their needs to God with faith. Jesus prayed because He knew the efficacy of prayers and He did not waste time to teach His disciples so that they will benefit from it too. Before we present our needs to God we must first acknowledge the glory and greatness of the name of God and reverence Him.
God knows what we need even before we ask because He is a loving, good and generous Father, but He expects us to ask, to seek and to knock with faith through prayers so that we will receive what we seek. This means that we have a task to always call upon God in prayers, but not just to pray and disappear, but to pray and persevere, because God will surely hear our cry and give us what will be good for us.
When we pray and we do not get the answer we desire or excpect, we should not give up, but accept what God has given because His gift will always be the best for us and He will fill our hearts with joy. He is all knowing and whatever He does will be the best.
Do not joke with your prayer life. Love God and pray to Him always as you wake up in the morning, as you do your work and before you retire at night. Pray as if everything depends on God, but work hard also as if everything depends on you. Take that matter before you to God in prayer today and you will see the power of God made manifest and your perseverance will win you the crown.
Good morning dearest one. Smile😊as you begin your day and do have a blessed Sunday. May God hear and answer you when you call upon Him in prayers. Amen. And may the Almighty God bless you: the Father and the Son and the Holy Spirit. Amen.
Meditation: Genesis 18:20-32/Psalm 1381-3,6-8/ Colossians 2:12-14/Luke 11:1-13
Watch-Word: Prayer is the master Key!
If you can create a time to pray with faith, then know it today that there is a God who loves you and will answer your prayers according to His will and at His own time which is always the best for you.