A WORD FOR TODAY 28 JUNE 2020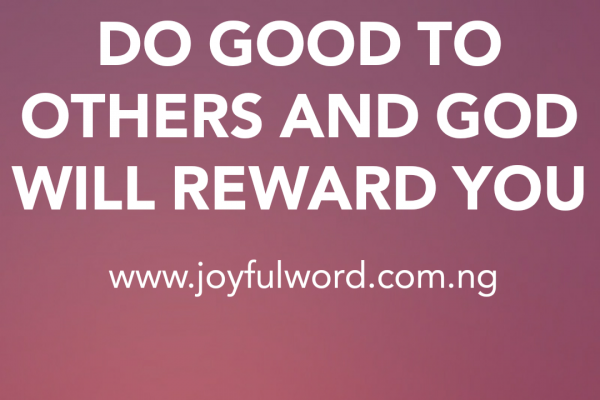 A WORD FOR TODAY
DO GOOD TO OTHERS AND GOD WILL REWARD YOU
"And she said to her husband, Behold now, I perceive that this is a holy man of God, who is continually passing our way. Let us make a small roof chamber with walls, and put there for him a bed, a table, a chair, and a lamp, so that whenever he comes to us, he can go in there."(2 kings 4:9-10)
When it comes to doing good and being kind, some persons will think that it is only reserved to particular individuals or group of people as a result of their status or position in life. However, the truth is, that anyone who believes in Jesus can do good. The amount of your goodness does not matter before God, but its quality is very important.
The readings of today show us that goodness begets goodness. If we really belong to God and love Him as we claim to, we must be ready to do good to others just as He has shown us goodness and true love by letting His Son to come and die for us in order to redeem us on the cross of Calvary.
The shunemite woman in the first reading of today from the second book of Kings, showed kindness to Elisha the holy man of God. She gave him shelter and a place to rest his head with no strings attached and in the end Elisha reciprocated her goodness by praying for her to have a child and this came to pass at the appointed time.
The question we should always ask ourselves is: why am I doing the good that I am doing to the person that I am doing it to? what is my intent? is it for my own selfish interest or for the good of the individual and the greater glory of God. These questions must be answered clearly and correctly before we embark on the project of doing good. Some persons can show kindness, but that kindness is one that holds you in bondage and it could be described simply as drinking from a poisoned chalice. Such kindness is just wickedness, because it will eventually kill the receiver and take away the little joy left in his or her life.
When our loyalty is rooted in Christ, we will be ready to do only those things that will please Him and one of those things that will make the Lord to be happy with us is to do good and be kind to others without any ulterior motives. Our goodness comes at a cost and if we are not ready to make such sacrifice we will not be able to do something that will bring glory to the name of the Lord and make us happy also.
God has blessed us with something in this life and when we fail to use that which he has given us by way of talent and material resources to bless others, we will become stingy with our gifts and it will be counted as sin for us before God.
It is our responsibility to take care and provide for the needs of those who work for us and take care of our spiritual lives especially the priests and religious. They have no farm or business enterprise. They depend on the generousity of the people of God to survive. Any good you do to them will surely come back to pay you a hundred fold. They are also expected to do good and be kind to others as they receive kindness from people. Infact, it is from what you give to them that they help the poor and needy that come to them on a regular basis. Therefore, be kind to your priests and religious. Do not wait for them to come and kneel down and beg you before you can help them or assist them to do their work well. Be like the woman of Shunem, show some kindness to God's ministers, because the blessings you are seeking may be attached to the kindness and goodness you show to others.
We are all called differently into different vocations, but we must always shine out as the light and show goodness to others who come to us. We must take care of the ministers of the gospel and be hospitable to them and that will encourage them to keep marching on till the end of time. Keep doing good, keep helping others, do not count what you have spent to help, God is taking note and His reward will make you shed tears of Joy in the end. Stay committed to your vocation, love Jesus with your life above all other things, family, business, possessions, friendship, status and positions and be rest assured that your reward will surely come. In the words of saint Gregory Nazianzen, "Give something, however small, to the one in need. For it is not small to one who has nothing. Neither is it small to God, if we have given what we could."
Good morning dearest one. Smile😊as you begin your day and do have a beautiful Sunday. May Jesus give you the heart to be kind to others and may your kindness bring you good and not evil. Amen. And may the Almighty God bless you: the Father and the Son and the Holy Spirit. Amen.
Meditation: 2 Kings 4:8-11,14-16/Psalm 89:2-3,16-19/Romans 6:3-4,8-11/Matthew 10:37-42
Watch-Word: He who loses his life for my sake will find it.
Do good to others for the sake of God and not for what you will gain and God will reward you with something more beautiful than what you have given.
(Thirteenth Sunday in the Ordinary Time. Cycle A)