A WORD FOR TODAY 28 MARCH 2020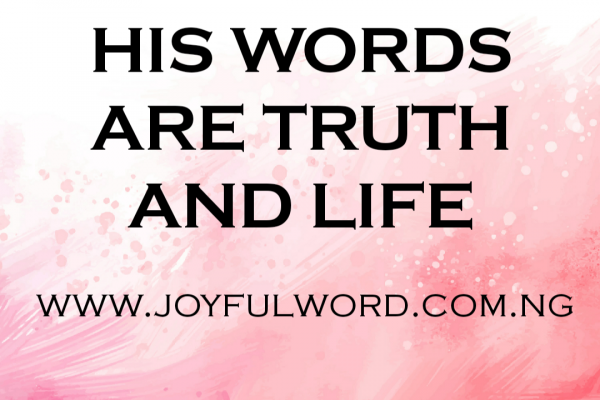 A WORD FOR TODAY
HIS WORDS ARE TRUTH AND LIFE
When you know you are selling an original of a product, you do not do so much of trying to convince people to come and buy from you, because they will come to realize that they bought the original when they use your product and they will tell others to come and patronize you.
Jesus is the truth and He came to teach us the truth and make us to be channels and vessels of the truth in the world. He did not compromise the truth so as to win followers, but spoke the truth always and also died for the truth.
As Jesus spoke the truth, His words touched and changed so many lives who accepted Him, but those who chose not to accept Him remained as they are in darkness. We see this in the gospel reading of today, that while some believed that Jesus was the Christ, others, especially from among the pharisees could not believe and they also tried to destroy Him, but they could not because His hour has not yet come.
There is need for us to learn from Jesus to believe in the truth and to speak it always, because only the truth shall set us free. We must be like Him who did not lower down His standard in order to become friends with the pharisees. He knew he was the truth and lived and died for it also.
If you believe in His words you will have life, because His words are truth and life. You must fill your hearts with His word and by so doing you will not be lured away by those who will come to fill your minds with falsehood. We must speak the truth even when we face persecution and in that way we shall be like Jesus who came and died for us.
Good morning dearest one. Smile😊as you do your work and do have a splendid weekend. May the grace of God help you to speak the truth always and may it set you free. Amen. And may the Almighty God bless you: the Father and the Son and the Holy Spirit. Amen.
Meditation: Jeremiah 11:18-20/Psalm 7:2-3,9-12/John 7:40-53
The truth is the truth whether you accept it or not
(Saturday of the Fourth week of Lent: Day 28)