A WORD FOR TODAY 28 NOVEMBER 2019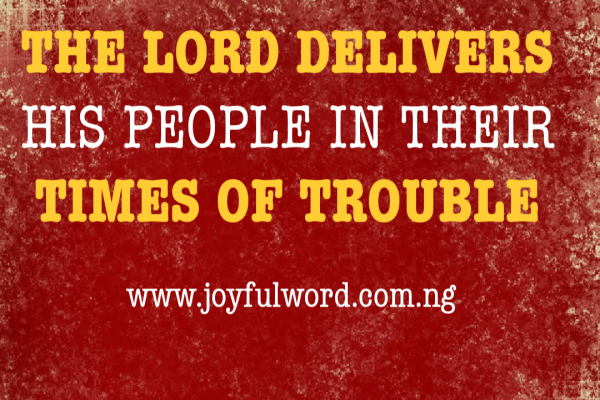 A WORD FOR TODAY
THE LORD DELIVERS HIS PEOPLE IN THEIR TIMES OF TROUBLE
Jealousy can make people hate you for no just cause and they can speak ill of you and make plans to make you fall and be punished. The story of the first reading of today is about how some men plotted against Daniel and succeeded in getting him thrown into the lions den, simply because he has found favour before the king and was doing God's will and keeping His commandments._
The men persuaded and pressured the king to punish Daniel for going against his command. They accused him wrongly and they wanted him to be taken away and be destroyed. They succeeded in getting Daniel thrown into the den of lions as food for the wild animals, but they did not succeed in getting him destroyed and killed, because the Lord was with him and fought his battle for him. The lions could not eat Daniel, because God did not permit that to happen.
This story is an encouraging one to any person who is undergoing persecution in anyway or the one who is falsely accused for no just cause. We must learn from Daniel to remain steadfast and not be afraid, because we have a living God who will speak for us and who will deliver us in the times of danger. He will not allow the enemies triumph over us, because he will give us the courage to stand firm and never waver in our times of trouble and pain.
The God we serve is not a God who abandons His children in their times of trouble. He is always with us and will deliver us if we put our trust in Him. Daniel was not afraid when he was being thrown into the den of lions, because he knows that God will speak for him since he has done nothing wrong, but to pray and praise the Lord and to witness for His name. The Lord sent his angels to shut the lions mouth and they could not hurt Daniel.
When we live our lives doing good and obeying God's commandment, we are bound to experience persecutions from time to time from those who may be jealous of the progress we are making. They may plot to get rid of us as they did to Daniel and also to our Lord Jesus Christ. However, we must remain steadfast, because God will take care of us and will never let them hurt us._
If we are going to win, we must totally depend on God and do His will always. We must never stop witnessing for Him even when we face rejection and torture in the hands of friends. We must keep proclaiming God's name in good and bad times. We must not be afraid, because God will take care of us and will speak on our behalf. He will fight for us and He will give us victory.
Good morning dearest one. Smile😊 as you do your work and do have a blessed day. May God stand by you and for you and may He defeat every evil plan that is being hatched by the evil one to destroy you. Amen. *And may the Almighty God bless you: the Father and the Son and the Holy Spirit. Amen.
Meditation: Daniel 6:11-27/Daniel 3:46-52/Luke 21:20-28
Watch-Word: May your God whom you serve continually deliver you!
No matter the pain, persecution or trouble you are experiencing at the moment, look up to Jesus, hold unto Him firmly and He will deliver you and keep you safe.
(Thursday of the 34th week in the Ordinary Time, Year 1)