A WORD FOR TODAY 28 NOVEMBER 2020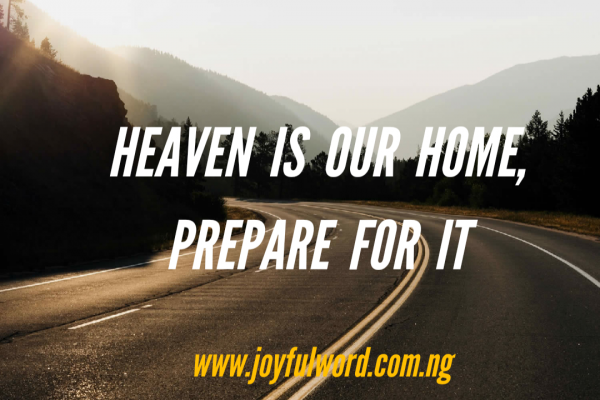 A WORD FOR TODAY
HEAVEN IS OUR HOME, PREPARE FOR IT.
_"There shall no more be anything accursed, but the throne of God and of the Lamb shall be in it, and his servants shall worship him; they shall see his face, and his name shall be on their foreheads."(Revelation 22:3-4)_
_*St. John in the first reading of today describes for us what he saw about heaven where the Lord reigns and the lamb of the Lord sitted upon the throne and the angels worship Him and behold His glory and majesty.*_
_This description should give us hope that we are going to a better place after our earthly journey, therefore, it will be very important to do what we can to prepare well for heaven by the way we live so that we shall have no regret in the end._
_*All we do here on earth from the time of our birth to the moment of our death could either take us to heaven move us away from it. It depends on the choice we make. If we choose heaven, we must live as one who wants to go to heaven. We must be honest, truthful, sincere and compassionate. We must be ready to love like Jesus and also lay down our lives for others as He laid down His life for us.*_
Jesus is coming again to take us home,but if we are going to go with Him, we must prepare well by living a holy and righteous life. We must not waste our lives on frivolities, but on what is important. We must not let the things of this life entrap us and stop us from pursuing the things of heaven.
_*We must be watchful and pray always, because we do not know the hour nor the day the Lord will come, but our readiness will definitely help us to meet Him when He comes.*_
_Good morning dearest one. Smile😊as you do your work and do have a fantastic weekend. May Jesus give you the grace to value heaven more than the things of this life. Amen. *And may the Almighty God bless you: the Father and the Son and the Holy Spirit. Amen.*_
*Meditation:* Revelation 22:1-7/Psalm 95:1-7/Luke 21:34-36
*Watch-Word:* Maranatha! Come, Lord Jesus!
*Heaven is real and if you stay focused doing the right things, you will go to heaven when you die.*
(Saturday of the thirty fourth week in the ordinary time,year II)