A WORD FOR TODAY 29 APRIL 2020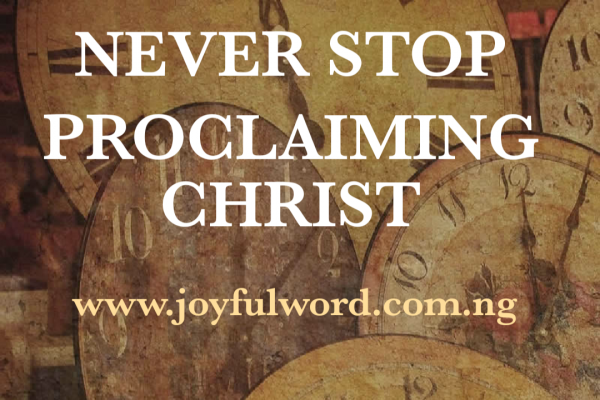 A WORD FOR TODAY
NEVER STOP PROCLAIMING CHRIST
"Now those who were scattered went about preaching the word. Philip went down to a city of Samaria, and proclaimed to them the Christ. And the multitudes with one accord gave heed to what was said by Philip, when they heard him and saw the signs which he did" (Acts 8:4-6)
Persecution is something that is bound to come to those who believe in Jesus. Infact, Jesus continuously reminded His discpiles to remain steadfast when it comes and that they should continue to proclaim His name. He told them that when they experience persecution in one town they should move to another place and continue their preaching. (Matthew 10:23)
The great persecution against the Church as recorded in the first reading of today from the Acts of the Apostles actually did not stop the Church from functioning, instead it became a wonderful catalyst that spurred the apostles on to go to other areas to proclaim the name of Jesus. What they experienced in the hands of Saul and others who persecuted them would have knocked them off from speaking in the name of Jesus, but the more they were persecuted, the more their drive and desire increased to proclaim Jesus and to be ready to lay down their lives for Christ.
We must learn from the attitude of the early Christians to never stop proclaiming Jesus inspite of the challenges we face. We must go the extra mile of letting the hatred and persecutions we encounter in the hands of people move us to keep telling the world about Jesus the bread of life and to make our faith grow stronger in the Lord.
There is never a time Jesus said that following Him will be easy, instead, through his life He showed us what we should expect. If, He our Lord should suffer in the hands of His creatures, then we must be prepared to experience the same fate, but such moments should not be allowed to waste, rather it should be a time to let the world know that we have no other person but Jesus as our Lord and Master.
We face different kinds of persecution in our time. Some persons may hate us and treat us bad for no just cause and they may even plot to destroy us. We must not lose heart, instead such moments should be a great opportunity to witness for Christ with love. We must find a way to use our pain to raise more people in the faith. Therefore, persecution should never be an excuse to stop preaching Christ, it should be a time to do God's will and to make His name known in places it has not been known before.
Today we celebrate the memorial of saint Catherine of Siena (1347-1380). She sought to live a holy life from a very tender age and devoted her live working for peace and harmony among cities. Her heart was filled with love for God and neighbour. Let us learn from her to love God with all our heart and also to love our neighbour as we love ourselves.
Good morning dearest one. Smile😊as you do your work and do have a joyful day. May Jesus give you the grace to never stop proclaiming His name even when you pass through pain in the hands of people. Amen. And may the Almighty God bless you: the Father and the Son and the Holy Spirit. Amen.
Meditation: Acts 8:1-8/Psalm 66:1-7/John 6:35-40
Watch-Word: Everyone who believes in the Son has eternal life.
Stay strong in your time of persecution and use such moments to deeply express your faith in Christ and proclaim His name.
(Wednesday of the third week of Easter. Cycle A)
Fr. Augustine Eleke