A WORD FOR TODAY 29 AUGUST 2019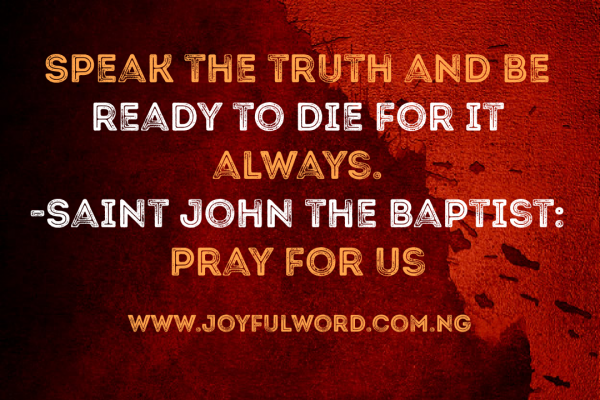 A WORD FOR TODAY
Today we celebrate the memorial of the martyrdom of saint John the Baptist. Apart from Our Lord Jesus Christ and our Blessed Mother, he is the only saint who has two feasts celebrated for his honour, one for his birth in June and the one we are celebrating today for his death.
John was great, but yet humble and the least in the kingdom of heaven. He was chosen by God to be the forerunner of our Lord Jesus who is the truth. He spoke the truth and defended it with His life and in the end he shed his blood for speaking against an evil act.
His courage to speak the truth to the king even when he knew it could bring him trouble is exceptional and something we should all emulate, because it is better to die for the sake of the truth, than to live a compromised life full of lies, dishonesty, insincerity, hypocrisy and sychophancy.
Just as Jeremiah was told by God in the first reading to speak to the people what He has commanded without fear, John the Baptist spoke the truth and paid the ultimate price of death. We must know that anyone who follows Jesus must be ready to pay this price, because our witnessing for Him could cost us our life. We may not be killed physically, but people may hate us and treat us badly in a manner that will make us suffer pain and anguish in our hearts.
We may suffer here on earth, but our reward will be great in heaven, because God will surely give us eternal life as He gave to saint John the Baptist whom we are celebrating. We must not give up even when we face persecution, and we must not compromise even when the world offers us its wealth in order for us to let go of our faith and let our guards down in holding unto on our Christian principles of standing by the side of truth and justice.
We must learn from John to be willing and ready to do God's will even if everyother person around us thinks and does otherwise. We must stand by the truth, live it out always and be ready to die for it even when the world hates us and conspire to destroy and neutralise us.
Good morning dearest one. Smile😊as you do your work and do have a peaceful day. May your courageous witness for Christ who is the truth win you eternal life in heaven. Amen. And may the Almighty God bless you: the Father and the Son and the Holy Spirit. Amen.
Meditation: Jeremiah 1:17-19/Psalm 71:1-6,15,17/Mark 6:17-29
Watch-Word: They will fight against you, but they shall not prevail against you.
Never stop saying the truth and living it out, because you will be hated by men, speak the truth always and be ready to die for it for that is what pleases the Lord.