A WORD FOR TODAY 29 FEBRUARY 2020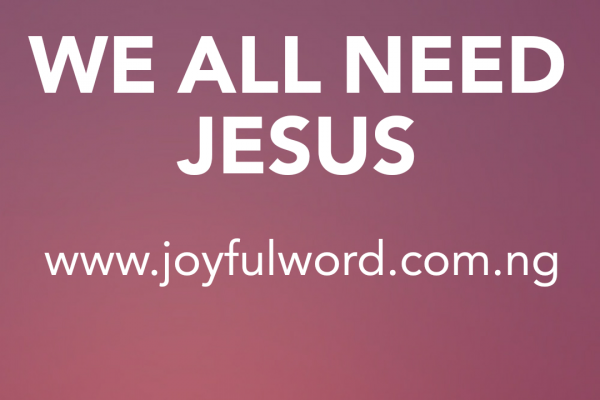 A WORD FOR TODAY
WE ALL NEED JESUS
We all have need for things from time to time as human beings. Sometimes we get what we need and sometimes we do not. When we get what we need we can be happy and when we don't, we are sad. However, it is good to know who and what you truly need that will give you everlasting happiness.
We all need Jesus and to find Him is to find salvation and eternal life. We see in the gospel reading of today how He called Matthew the tax collector and he left everything and followed Him, because he found in Jesus a friend like no other. The transforming experience he had with Jesus moved him to organise a feast in his house that gave other tax collectors opportunity to meet with Jesus.
The mission of Jesus was to call sinners to repentance. He is always calling us to return to Him and change our ways. If we hear His voice and change like Matthew, we shall be saved. The magnitude of our sin does not matter when we come to Jesus, because He will show us mercy and will heal us from the wounds of sin.
We need Jesus in order to live a good life and to obey the commandments of God. He will teach us the way of the Lord and if we hearken to His voice and follow Him we shall have life and we will be honoured by the Lord.
We need Jesus for mercy, healing, restoration, peace, strength, wisdom and so on. Without Him we are nothing and can do nothing, but with Him we can overcome all. We must draw closer to Him and respond positively to His invitation as Matthew did and we shall be saved and He will also make use of us as a channel to save others.
Good morning dearest one. Smile😊as you do your work and do have a splendid weekend. May Jesus show you mercy and help you to repent of your sins. Amen. And may the Almighty God bless you: the Father and the Son and the Holy Spirit. Amen.
Meditation: Isaiah 58:9-14/Psalm 86:1-6/Luke 5:27-32
Watch-Word: Teach me, O Lord, so that I may walk in your truth.
Jesus is ready to welcome you back, if you are ready to return to Him and make amends of your sin.
(Saturday after Ash Wednesday)