A WORD FOR TODAY 29 JAN 2019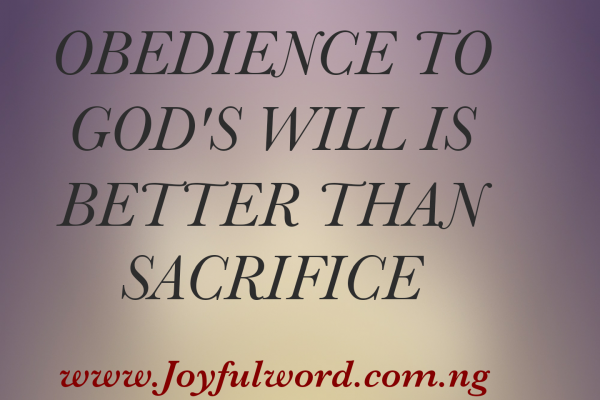 A WORD FOR TODAY
Because He is God He knows us more than we know ourselves. He knows our beginning and our end. He knows what will be good for us and what will bring us harm. However, in love He has created us and He gave us the gift of freewill that aids us in making choices in life. We are free to make a choice, but if the choice we make will bring us good we must let it be in harmony with God's will.
Jesus came in obedience to the Father and everything He did from birth to death is in accordance to the will of the Father. He showed us what it means to be loyal and He remained steadfast to the end. He had the freedom to make His own choice, but He let Gods will be done because He knows that it is what will bring Him glory in the end.
Our Mother Mary was also foremost among those who obeyed God's will. She heard the message from the Angel and she gave her consent and said, 'behold I am the handmaid of the Lord, let It be done to me according to your word' This obedience made her to become the Mother of Christ.
Jesus in the gospel reading of today has given us an opportunity to become His brother, sister and mother. This will happen if we strive to do God's will on a daily basis. We may make our plans and have choices, but we must make sure that it is in accordance to God's will and it will bring us blessings.
Obedience is a virtue, but it is sometimes difficult for us to practice, because we always want things to go our way, but if we in obedience allow God's will to be done in us it will definitely bring us good and not disaster.
Good morning dearest one. Smile😊and do have a wonderful day. May Jesus give you the grace of obedience and may you let God's will be done in your life. Amen. And May the Almighty God bless you: the Father and the Son and the Holy Spirit. Amen.
*Meditation:* Hebrews 10:1-10/Psalm 40:2,4,7-8,10-11/Mark 3:31-35
*Watch-Word:* Behold, I have come to do your will!
God is our Father who knows us and what will be good for us. If we trust in Him and obey His will, we will find life and we will be happy in the end.