A WORD FOR TODAY 29 MARCH 2020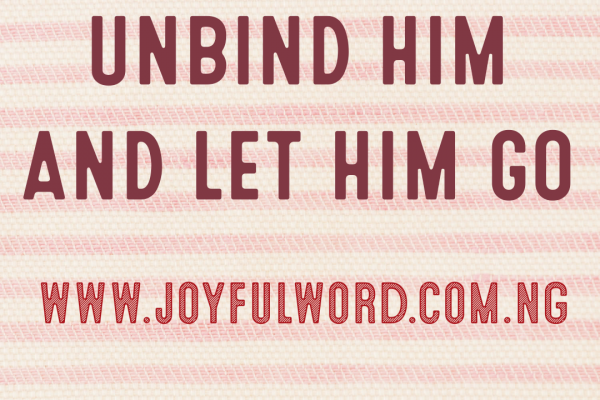 A WORD FOR TODAY
UNBIND HIM AND LET HIM GO
To be in chains and in captivity is something that no one wants or prays to experience, because it could be an excruciating moment that can break the victims apart.
The grave is something that people ordinarily would not want to discuss, because it is seen as a place of darkness and where the dead stay and there is no life in it. Anyone who is said to be in bondage could be said to be in a grave and the person cannot help himself or herself unless he or she is helped.
The prophet Ezekiel in the first reading of today speaks of how God will open the graves of the people of Israel and bring them out so that they will live. It is a story that reminds us of the power of God to save. We may be dead in sin, but in Christ we shall be revived and we will come alive again and continue to praise and serve the Lord.
The Lord will put His Spirit in them so that they will live. They were dry and down, but the grace of God's spirit will revive them and help them, as saint Paul tells us in the second reading from his letter to the Romans, "if the spirit of of him who raised Jesus from the dead dwells in you, he who raised Jesus from the dead will give life to your mortal bodies."
The gospel reading tells the story of how Lazarus who was dead and already buried in the grave, was brought back to life by Jesus. His family and the people have given up that nothing could be done to save him, but when Jesus came He was moved in the Spirit and He wept and instructed them to roll away the stone where he was buried and commanded him to come out. The dead Lazarus heard Jesus' voice and came out of the tomb, but he was still tied and cannot move and Jesus Jesus told them to unbind him and let him go.
When you are bound and in captivity you cannot help yourself except a higher power comes to set you free. To be in the grave is to be held captive by the power of sin and death. It is only Jesus that can set us free. The power of God can set you free from whatever is holding you bound if you cry out to Him.
Come to Jesus today, cry out to Him in faith for He will unbind you and set you free. from whatever that is holding you bound. Our freedom comes from Him. Strive to be in the Spirit and the works of the flesh will have no power over you. You will hear his voice once again, "Unbind him and let him go"
Good morning dearest one. Smile😊as you begin your day and do have a miraculous Sunday. May the power of Jesus raise you up from where you have fallen and may be free again. Amen. And may the Almighty God bless you: the Father and the Son and the Holy Spirit. Amen.
Meditation: Ezekiel 37:12-14/Psalm 130:1-8/Romans 8:8-11/John 11:7,17,20-27,33-45
Watch-Word: With the Lord there is mercy and plentiful redemption.
You cannot be free if you refuse to let Jesus help you. Surrender to Him and He will unbind you and let you go.
(Fifth Sunday of Lent: Cycle A)