A WORD FOR TODAY 29 NOVEMBER 2019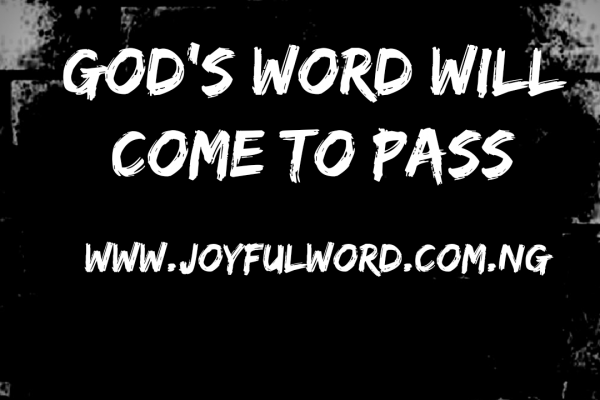 A WORD FOR TODAY
GOD'S WORD WILL COME TO PASS
We are creatures of God and He made us in His own image and likeness with the intention that we shall serve Him here on earth and when we are done with our work, we must return to Him so as to live in His presence forever.
Therefore, this world is not our permanent home and as such we must live like pilgrims on earth. We must always be conscious that we are on a journey to heaven where we shall see God face to face. We must not allow our hearts to be carried away by the frivolities of this life, rather, we should stay focused and be on alert so that we will be ready when the Lord shall come to take us.
Jesus tells us in the gospel reading of today that the kingdom of God is near, therefore, we must prepare to welcome Him when He comes again. We must live in a manner that will be pleasing to Him so that when He comes He will find us worthy and He will welcome us into His eternal abode in heaven and reward us with life eternal.
God has spoken to us through His Son our Lord Jesus Christ. He has made known to us what is to come in the future and as His children and disciples we must believe in His words, for it will definitely come to pass. We must never doubt in our heart whether it will happen, instead, we should believe and keep waiting for the appointrd time.
The kingdom of God is an everlasting kingdom and His dominion is an everlasting one which shall never pass away. Therefore, now is the time to focus on our work here on earth and do it well. We must live as those redeemed by the precious blood of Jesus. We shall not dwell in darkness, we shall represent Christ and we shall become the light of the world so that those who are in darkness, through our good examples will come to accept Jesus and turn away from evil.
The time of waiting for the coming of the Lord is a moment to do good always and to praise God. We must never give up no matter the situation, rather, we should sing praises to God always and be rest assured that He will always help us and deliver us in our times of need. Praise God more as you await His return, praise Him more in your times of need and in moments of abundance. Sing praises to the Lord for He is worthy to be praised.
Good morning dearest one. Smile😊as you do your work and do have a magnificent day. May God help you to stay focused until the day of the return of the Son of man. Amen. And may the Almighty God bless you: the Father and the Son and the Holy Spirit. Amen.
Meditation: Daniel 7:2-14/Daniel 3:53-59/Luke 21:29-33
Watch-Word: Heaven and earth will pass away, but my words will not pass away.
Keep doing good as you wait for the coming of the Lord, because your reward will surely come.*_
(Friday of the 34th week in the Ordinary Time, Year 1)