A WORD FOR TODAY 29 OCTOBER 2019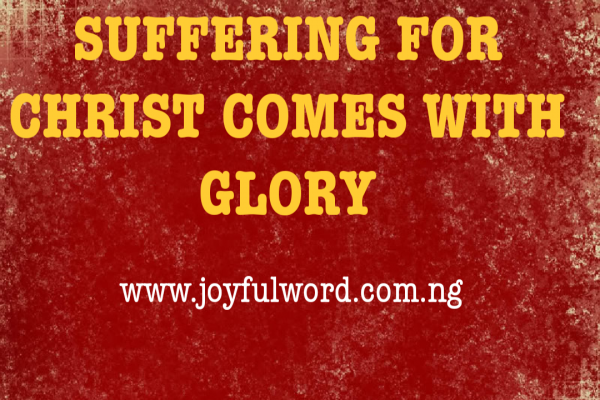 A WORD FOR TODAY
SUFFERING FOR CHRIST COMES WITH GLORY
The saying is true, that nothing good comes easy. Life comes in stages and anyone who believes in Christ must be ready to follow the pattern laid down by Him in order to gain eternal life and salvation. If we belong to Christ, we must be ready to suffer as He did and bear our cross to follow Him as He has instructed us.
If we suffer for the sake of Christ we must be rest assured that our moment of glory will come. Therefore, the grace of patience is needed in order to remain steadfast and await our time of glory which must surely come and what we shall receive will be far greater that what we may have lost through suffering and persecution.
There is time for everything on the face of the earth and if we must answer God's call well, we must know from the very beginning that anyone who believes in Christ must be ready to pass through difficulties, challenges, trials, temptations and persecutions. This will definitely come, but in the end the reward and glory that we shall receive will surpass any pain our suffering has caused us.
When we focus our minds on the glory that is to be revealed at the end of time, we will be able to bear our cross with joy and hope. We will no longer see our suffering as a punishment from God, but a means by which God purifies us and prepares us for eternal glory. This is the reason saint Paul tells us in the first reading of today that the sufferings of this present time are not worth comparing with the glory that is to be revealed.
In our moments of pain and suffering we are like a grain of mustard seed planted in the soil. People may look down on us, insult us, but our patience will come to pay us back, because we shall grow to become a big tree that will be beneficial to all those who have looked down on us in our moments of pain and suffering.
We must be joyful when we suffer for the sake of Christ, because it will bring us glory in the end. We must be proud to bear the name Christian and whatever we experience by way of suffering, pain and persecution should move us to continue to do good and commit ourselves faithfully to our creator (1 Peter 4:12-19)
Therefore, do not focus on the pain that comes with suffering, but focus more on the glory that you will receive in the end and it will help you to bear and endure it patiently for the sake of Christ. One thing is sure, that God will never abandon us in our times of trouble, but will always give us the enabling grace to remain steadfast and overcome.
Good morning dearest one. Smile😊as you do your work and do have a wonderful day. May your joy remain intact even as you experience sufferings and persecutions and may God's glory be your reward in the end. Amen. And may the Almighty God bless you: the Father and the Son and the Holy Spirit. Amen.
Meditation: Romans 8:18-25/Psalm 126:1-6/Luke 13:18-21
Watch-Word: What great deeds the Lord has worked for us!
Our suffering and pain for the sake of Jesus is never in vain, because He will repay us with greater glory and eternal joy for our steadfastness.
(Tuesday of the 30th week in the Ordinary Time, Year C)