A WORD FOR TODAY 3 APRIL 2020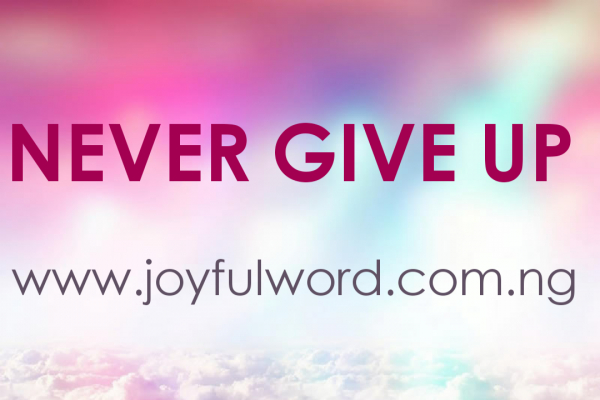 A WORD FOR TODAY
NEVER GIVE UP
"Jesus answered them, "I have shown you many good works from the Father; for which of these do you stone me?" (John 10: 32)
When you choose to follow the way of God, you are choosing to face persecutions in the hands of those who who will be enemies of the truth and who would not want to be associated with the light, but with darkness.
Jeremiah in the first reading of today experienced persecution in the hands of the people. They hated him simply because he was telling them the truth and refused to join them in their evil deeds. However, he did not give up, but placed His trust in the Lord who will fight his battle.
In the gospel reading we see the threat to destroy and get rid of Jesus getting hotter everyday. The Jews were angry at him and wanted to stone Him to death. They persecuted Him because they did not like what He was doing, but what He was doing was for the good of humanity.
We must not hate people because they do not confirm to our standard. Instead, if what they are doing is right, we must support and encourage them so that they will actualize their goal which will be for the good of all.
We must also learn from Jesus not to give up in doing good even when people hate us and persecute us for no just cause. We must stay strong and draw our strength from Him and by His power we shall overcome.
If you give up at the slightest opposition or rejection by the people, you may never achieve your set goals. Therefore, remain resolute to persevere and be rest assured that God will be with you and He will help you to overcome in the end.
Good morning dearest one. Smile😊 as you do your work and do have fantastic day. May Jesus give you the grace to remain steadfast even in the face of persecution. Amen. And may the Almighty God bless you: the Father and the Son and the Holy Spirit. Amen.
Meditation: Jeremiah 20:10-13/Psalm 18:2-7/John 10:31-42
Watch-Word: Your words, O Lord, are spirit and life.
Do not give up when you fave persecution, persevere and you will overcome.
(Friday of the fifth week in Lent. Day 33.)