A WORD FOR TODAY 3 FEBRUARY 2020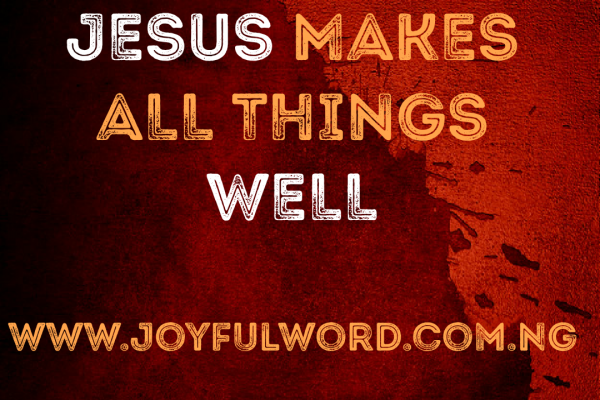 A WORD FOR TODAY
JESUS MAKES ALL THINGS WELL
To be in chains and in captivity is something you should not wish to experience. Many have experienced different forms of torture in the hands of those who held them in captivity and when you are in chains you can never be happy. Our fundamental right of freedom is something no one would want to see taken away, violated or deprived of.
You become uncomfortable when someone tries to hold you in captivity and deny you of your freedom, you do everything possible to set yourself free. Now you can use that to think of those who are in spiritual captivity, because they are held bound by demons or forces of evil beyond their control. They cannot set themselves free except a superior power to that which is holding them in captivity comes to set them free.
The man with the unclean spirit in the gospel reading of today was in chains and could not help himself. He was created in the image and likeness of God and Jesus was ready to save him from the torment of the demons and restore his sanity. This He did by giving him deliverance from the forces that were tormenting him, He loves us so much and our physical and spiritual well-being is important and of much value to Him than any material thing.
It is only by the power of God that we can truly be free from any force that torment us. The evil one came to steal, to kill and to destroy, but Jesus came that we may have life and have it in abundance. (John 10:10). The mission of the devil and his agents is to hold us in chains and torment us, but in Christ we are free and He has come to make all things well.
When you are in trouble or in pain, call no other name, run to no one else, but call upon Jesus and invite Him to come. His presence is all you need to be free and happy. When Jesus is around you, no force of evil can destroy you. He is our freedom and in Him our victory is assured. Fear not, but put your total trust in Him for He will never fail.
Always be ready to spread the Good news of what the Lord has done for you as the man did in the gospel. He went everywhere telling the story of the goodness of the Lord in His life. We must praise and glorify God always, for He has done and will continue to make all things well as we put our trust in Him.
Good morning dearest one. Smile😊 as you do your work and do have a blessed New Week. May Jesus come around and may He deliver your from the hands of the evil one. Amen. And may the Almighty God bless you: the Father and the Son and the Holy Spirit. Amen.
Meditation: 2 Samuel 15::13-14,30;16:5-13/Psalm 3:2-7/Mark 5:1-20
Watch-Word: Arise O Lord and Save your people.
When Jesus appears, the forces evil bow down. Fear no more, for the presence of Jesus is your security.
(Monday of the Fourth week in the ordinary time, Year II)