A WORD FOR TODAY 3 JANUARY 2020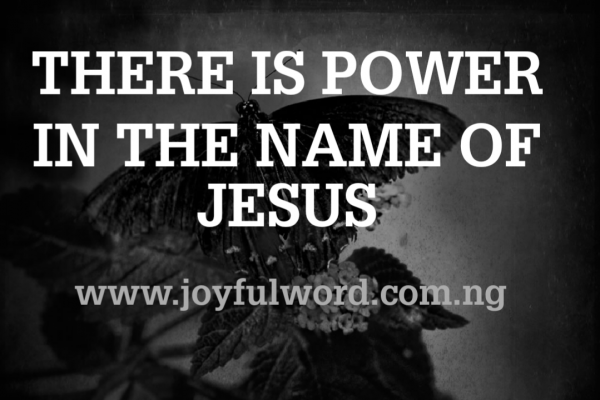 A WORD FOR TODAY
THERE IS POWER IN THE NAME OF JESUS
Today the universal Church celebrates the memorial of the most Holy name of Jesus. It is a day we commemorate the name 'Jesus' which was given to our Lord at birth and it is a name which means salvation and is above every other name. The angel specifically told Mary what her child will be called and that was what they called Him and that name showed His identity and mission._
The names we bear reveal who we are, where we come from and sometimes what our mission in life is all about. Our Lord Jesus did not just come into the world by chance or accident, He came into the world for a purpose and that is for the salvation of the world. He humbled Himself in obedience to the Father and He was given a name which is above every name and which at the mention of it every knee shall bow and every tongue confess that He is Lord.(Phil. 2:6-11)
Saint John in the first reading of today reminds us that we are God's children and as such we must live a holy life and stay away from evil so that His name will be glorified. We bear God's name upon us and we must work hard to preserve and protect the integrity of the name of the One who has called us to represent Him here on earth.
Saint John the Baptist points out for us in the gospel reading of today, Jesus as the lamb of God who takes away the sins of the world. This means that we must look up to Christ and follow Him because He is our sure help in our times of need. If we have been wounded by sin, we can find healing mercy if we return back to Jesus.
The power in the name of Jesus can heal, save, restore, deliver, protect and revive us. Forces of darkness tremble and crumble at the mention of this name. Since we belong to Christ, we must let the world know Him through us. We must live a life that shows the world that we belong to Him. We must not compromise our faith, but make it come alive everyday through our lifestyle.
Do not hesitate to call upon the name of Jesus, because it has the power to make a sinner to become a saint. The power in the name of Jesus gives us strength to overcome our weakness, to be kind and good to others and to live a life worthy of emulation. Do not be afraid to call on the name of Jesus, because that is the only name given to us by God to find salvation in this life.
If you call the name of Jesus, you must strive to live a righteous life and stand on the side of good and justice. You must shine out as the light and the force of evil can never bring you down. Stand by Jesus always and His name will speak for you at all times and bring you victory.
Good morning dearest one. Smile😊as you do your work and do have a splendid day. May the name of Jesus bring you spiritual and physical restoration in all ramifications. And may the Almighty God bless you: the Father and the Son and the Holy Spirit.
Meditation: 1 John 2:29-3:6/Psalm 98:1,3-6/John 1:29-34
Watch-Word: Look, there is the lamb of God that take away the sins of the world.

There is power in the name of Jesus, believe in it, call upon His name with faith and you will experience the manifestation of God's power.