A WORD FOR TODAY 3 JULY 2020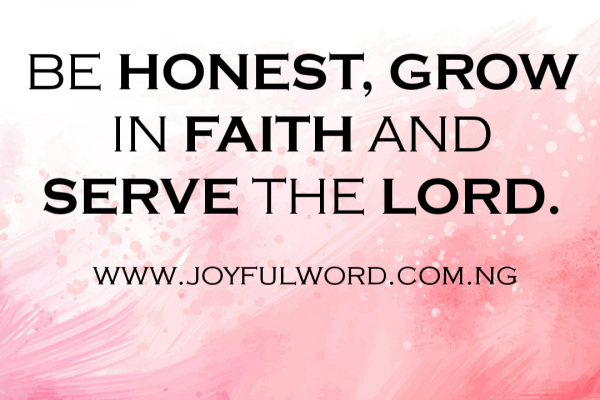 A WORD FOR TODAY
BE HONEST, GROW IN FAITH AND SERVE THE LORD
"Then he said to Thomas, Put your finger here, and see my hands; and put out your hand, and place it in my side; do not be faithless, but believing.Thomas answered him, My Lord and my God! Jesus said to him, Have you believed because you have seen me? Blessed are those who have not seen and yet believe."(John 20:27-29)
Today the Universal Church celebrates the feast of the Apostle Thomas. He was one of the twelve that Jesus called to follow Him and indeed, inspite of his imperfection, he served the Lord with his life and paid the supreme price of faith by way of martyrdom.
There are many things to learn from the Apostle Thomas, but we are going to focus on a few in our reflection today. Thomas has always been seen as a man who doubted the authenticity and veracity of Jesus' resurrection. However, it was a doubt that led to an encounter with the Risen Christ and this made him to affirm his faith in Christ solidly all the more and he spent the rest of his life proclaiming about the Lord.
St. Thomas was indeed an honest man. Yes, he was not with the rest of the Apostles when Jesus came, and as a natural pessimist he refused to accept what was not clear to him when they told him that they saw Jesus. Because he stayed away from the rest of the apostles, he lost an opportunity to see Jesus, but Jesus gave him a second chance out of His love for him and he now saw and believed. In our times of pain and sorrow, we must learn not to abandon the fellowship of God's children because we will draw our strength to stay strong from such places.
Honesty is a virtue we must imbibe in our life as we follow Jesus and also in our dealings with human beings. To be honest is to be sincere and straight forward. It is a virture that makes an individual not to claim to be who he is not, or to understand what he or she does not understand.
We must grow in our faith everyday in honesty and when we are sure that it is Jesus we are following, we must totally surrender to Him and let Him make use of us in the service of others. Thomas never looked back after His encounter with Jesus and we must not look back if we intend to run the race till the end.
Good morning dearest one. Smile😊 as you do your work and do have a great day. May your honesty in serving the Lord, bring you blessings from above. Amen. And may the Almighty God bless you: the Father and the Son and the Holy Spirit. Amen.
Ephesians 2:19-22/Psalm 117:1,2/John 20:24-29
Watch-Word:* Blessed are those who have not seen and yet believe.
When it comes to God, do not wait to see, before you will believe. Just believe and you will see a manifestation of His power and glory.
(Friday of the thirteenth week in the Ordinary Time. Year II. Feast of St. Thomas, Apostle.)