A WORD FOR TODAY 3 JUNE 2020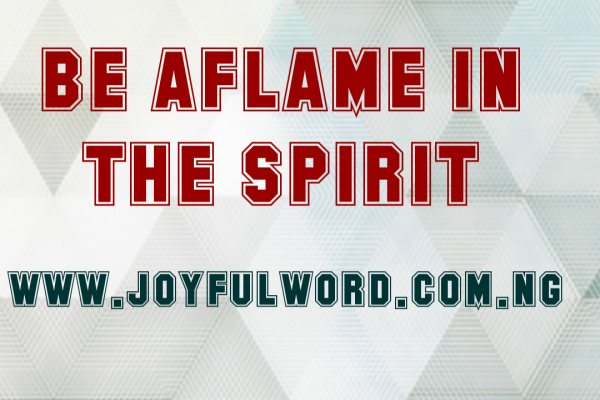 fhfgg
A WORD FOR TODAY*l
BE AFLAME IN THE SPIRIT
_"Hence I remind you to rekindle the gift of God that is within you through the laying on of my hands; for God did not give us a spirit of timidity but a spirit of power and love and self-control."(2 Timothy 1:6-7)_
Gifts are given by God to help us serve Him well here on earth. There is no one who is born on earth that is not endowed with a gift or two from God. However, when these gifts are not put into use they will lie dormant in us and probably we die with them, but if we put them into good use we will use it to win more souls to God.
The Holy Spirit has come upon us at pentecost and we have received various gifts. We must strive everyday to rekindle these gifts. We must fan it into flame. Infact, we must be aflame in the Spirit if we are going to fulfil our calling here on earth. To be cold and lukewarm in the things of God will make us not to bear fruit, but if we set ourselves aglow in the Spirit by submitting to the power of the Holy Spirit, we shall win more souls for Him.
To be aflame in the Spirit is to be a fire brand for God. It means to be courageous to witness for Christ at all times and in all places. It means not to be afraid to lay down ones life at any point in time for the sake of Christ. The one who is aflame for God will be ready to suffer for Christ and count it as nothing.
To be aflame in the Spirit is to be ready to follow the way of love, peace, mercy, forgiveness, non-violence, honesty, justice, equity, sincerity, holiness, faith e.t.c. St. Paul was aflame in the Spirit when He did all He did for Christ and today he admonishes Timothy to learn from him and remain steadfast in faith.
When we are aflame in the Spirit and strong in faith, we will be able to speak the truth to those who question the faith we have in Christ, Just like Jesus did in the gospel reading. The Saduceees who came to him to question about the resurrection of the dead were ignorant of what the Scriptures said about it and were spiritually blind and could not understand what Christ is explaining. The fire of the spirit burning in our heart will help us to know the truth and make us to be willing to teach it always. We will continue to enlighten others to come to the knowledge of God.
Today we celebrate the memorial of Saints Charles Lwanga and companions (Martyrs). They were executed simply for being Christians. They were brave in the face of persecution and death and today many souls have come to believe in Christ through their courageous witnessing. We pray that we shall be aflame in the Spirit so that we will defend our faith and be ready and willing to lay down our lives for the sake of Christ.
Good morning dearest one. Smile😊as you do your work and do have a beautiful day. May the Holy Spirit set your heart on fire of His love so that you will continuously bear fruits for Him. Amen. And may the Almighty God bless you: the Father and the Son and the Holy Spirit. Amen.
Meditation: 2 Timothy 1:1-3,6-12/Psalm 123:1-2/Mark 12:18-27
Watch-Word: I am the Resurrection and life says the Lord.
Do not let the gifts of God in you remain dormant. Fan it into flame and be aflame in the Spirit always.*_
(Wednesday of the 9th Week in the ordinary time, Memorial of Charles Lwanga and companions, Martyrs)