A WORD FOR TODAY 3 MAY 2020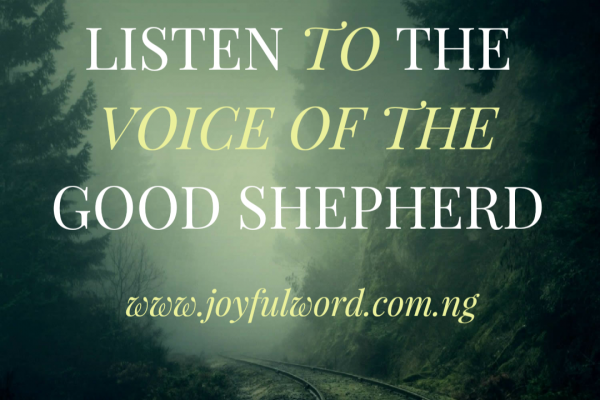 A WORD FOR TODAY
LISTEN TO THE VOICE OF THE GOOD SHEPHERD.
"Truly, truly, I say to you, he who does not enter the sheepfold by the door but climbs in by another way, that man is a thief and a robber; but he who enters by the door is the shepherd of the sheep. To him the gatekeeper opens; the sheep hear his voice, and he calls his own sheep by name and leads them out"_(John 10:1-3)
If you are going to live life to the fullest, you must be ready and willing to be a good listener who will not just listen to anything, but to those words that will inspire you to aim for greatness and to be righteous in the sight of God and man.
Voices are speaking every day with different contents and mission of what they aim to achieve. You must be careful what and who you listen to, because all that glitters is not gold. Some voices may sound cool and nice, but the intent behind the voice may be to kill and destroy. This is where you must apply reason to make the choice of who to follow and what to hear, it could either be Jesus the Good Shepherd or a thief who pretends to be the shepherd but comes only to steal and kill and to destroy. Be wise in your choice making.
Today is good Shepherd or Vocation Sunday as the case may be. It is a day we are to reflect on Jesus as the Shepherd who calls us into various vocations to serve Him and to represent Him here on earth. Jesus tells us in the gospel reading of today that He is the door to the sheepfold. The sheep hears the voice of the shepherd and they follow Him and they will not follow the stranger, because his mission is to steal, to kill and to destroy, but Jesus the Good Shepherd has come to give life and give it abundantly.
St. Peter in the first reading of today witnessed with courage about Jesus the Good Shepherd and his message moved his audience to repentance as they asked him, "what shall we do", and in the second reading he tells us about Jesus the good Shepherd who suffered and was wounded for us to be healed. He bore our sins in his body that we might die to sin and live to righteousness. He was wounded so that the fathers love, healing and mercy will flow from Him to us and if we listen to Him and hearken to His voice, we shall become agents of love, healing and mercy in the world.
Jesus is the good shepherd and we must listen to Him. His voice calls us everyday. We must not choose other voices that will not speak life and wisdom into us, but evil and corruption, wickedness and greed, hatred and envy and so on. We must hear the voice of Jesus and do what He says and we shall have eternal life.
The voice of Jesus is calling us to come follow Him so that we shall find pasture. We must say yes to Him and we will never regret it. He has givien us vocations, as priests, doctors, nurses, engineers, architects, teachers, accountants, lawyers, builders and so on. We must hear his voice and live our lives according to His commandments and by so doing we will win more souls into His kingdom.
We pray today that God will continue to bless the Church with vocations to the priesthood and religious life and may those who answer this call be ready to lay down their lives as Christ did for them and through their witnessing may they win more souls to God.
Good morning dearest one. Smile😊as you begin your day and do have a beautiful Sunday. May Jesus the good Shepherd give you a listening ear and when you hear Him and follow Him may you find eternal life. Amen. *And may the Almighty God bless you: the Father and the Son and the Holy Spirit. Amen.
Meditation: Acts 2:14,36-41/Psalm 23:1-6/1 Peter 2:20-25/John 10:1-10
Watch-Word: The Lord is my Shepherd, There is nothing I shall want.
Listen to the right person and you will do the right thing. Jesus is the right person to listen to.
(Fourth Sunday of Easter. Cycle A.)