A WORD FOR TODAY 30 DECEMBER 2019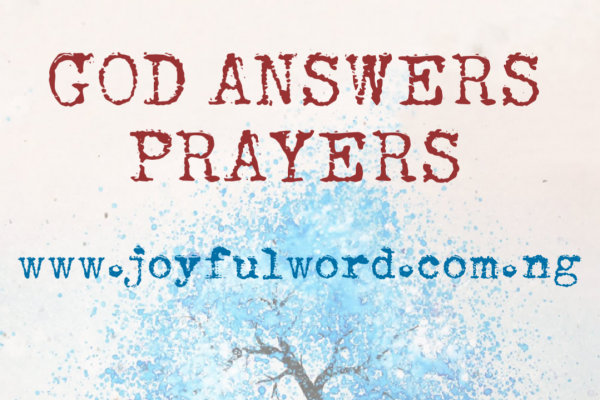 A WORD FOR TODAY
GOD ANSWERS PRAYERS
There is no other way we can communicate and dialogue with God except through prayer, however for our prayers to be answered it must flow from our heart and we must also persevere as we ask of the Lord.
The story in the gospel reading of today is a clear manifestation of God's graciousness and mercy. The prophetess Anna lived a good and honourable life in the presence of the Lord. She prayed to the Lord to let her see the promised Messiah before she die and that was granted to her by the Lord, because she persevered in her prayers.
Our prayers will always be answered when it meets God's standard, which means, it must be offered in accordance with the will of God. Therefore, do not give up when you pray and your answer seems to delay, try like Anna to remain steadfast in serving and worshipping the Lord and at the appointed time God will answer you and grant you the good you desire._
Prayer helps us to overcome the challenges of this life and to become victorious. Saint John advises us in the first reading of today not to love the world, but to live as pilgrims, because the world and everything in it, the lust of the flesh, lust of the eyes and the pride of life are all passing away. For us to be able to overcome the temptations that come to us from the world, we must be prayerful and disciplined.*_
When we stay close to God, we shall receive the grace and power to overcome evil. We shall conquer the concupiscence of the flesh and the eyes and also knock down the wall of pride in our heart and become humble like Jesus. 'Prayer is the key and if you have it, you will be able to open that door that is locked'
Jesus our Messiah is born for us and He is ready to help us in our needs. We must look up to Him with faith and hope and we must never give up no matter how challenging and difficult our conditions may be. Take that issue you have at the moment to God in prayers and be rest assured that you will find the help you need.
In prayer we shall receive the inner strength to be able to do God's will always and to be able to detach ourselves from the things of this life. We must practise detachment if we intend to please the Lord and to do His will. We will not be able to overcome the challenges of this life if we do not spend quality time in God's presence.
Good morning dearest one. Smile😊as you do your work and do have a wonderful day. May Jesus hear your prayers when you pray and may you receive the grace for victory over the world and all it offers to pull you down and make you spiritually weak. Amen. And may the Almighty God bless you: the Father and the Son and the Holy Spirit. Amen.
Meditation: 1 John 2:12-17/Psalm 96:7-10/Luke 2:36-40
Watch-Word: And the child grew and became strong, filled with wisdom; and the favour of God was upon Him.
Pray always with faith and perseverance, work hard with hope and trust and you will definitely experience a manifestation of God's blessings in abundance.