A WORD FOR TODAY 30 JULY 2019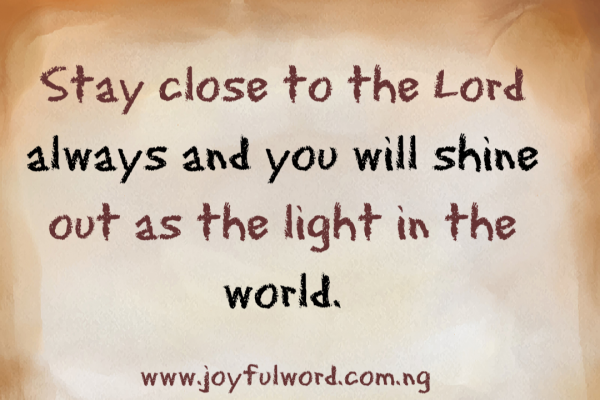 A WORD FOR TODAY
Moses was chosen by God to lead the people and he played his role as a leader very well. He taught the people the way of God and showed them through His words and action how to relate with God. He made a lot of sacrifice to be with God and He never joked with the moment of encounter and the privilege he had to speak with God face to face.
In the first reading of today we see how he was always going to the tent of meeting to speak with the Lord and to seek His face. He never stopped going to meet with the Lord, because that is the source of his power and strength. We must develop a good relationship with God and create a good and wonderful atmosphere to worship Him always.
Our encounter with the Lord on a daily basis will help us to remain as the good seed in the world sown by the Father to transform the earth. We must bear good fruits and shine out as the light always. If we stay away from the Lord, the devil will sow his evil seed in us and we shall become the darnel which will be burnt at the time of harvest.
Creating a quality time for God from our daily schedule should be a top priority for us. We must not let our busyness with the things of the world stop us from coming before the Lord to encounter Him and to find peace for our soul. The benefits of being with the Lord is so immense that we will not be able to finish enjoying the fruits here on earth before we go to be with the Him in heaven.
To shine out as the light and to bear fruit for Christ, you must make Jesus your foundation and you must not let anything or anyone stop you from being the good seed that God has created you to be. The grace has been given, just cooperate with it and you will excel in the things you do and souls will come to believe in God through you.
Good morning dearest one. Smile😊as you do your work and do have a wonderful day. May Jesus help you to always stay close to Him and to shine out as the light always. Amen. And may the Almighty God bless you: the Father and the Son and the Holy Spirit. Amen.
Meditation: Exodus 33:7-11,34:5-9,28/Psalm 103:6-13/Matthew 13:36-43
Watch-Word: The Lord is Compassion and Love.
You are created to be the light, do not let anything or anyone put off your light and turn you into darkness. Shine out as the light always.