A WORD FOR TODAY 30 MARCH 2020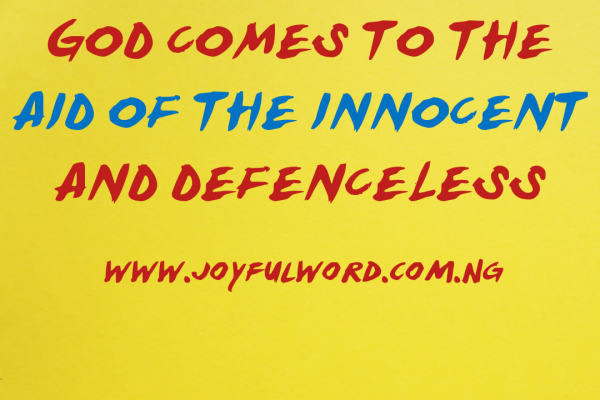 A WORD FOR TODAY
GOD COMES TO THE AID OF THE INNOCENT AND DEFENCELESS
When we cannot defend ourselves in the presence of those who accuse us of a crime we did not commit, we call upon God who is always ready to speak for those who cannot speak for themselves and He will speak for us.
The stories of the readings of today show us the different dimensions of the personality of God. In the first reading, God came to the aid of the innocent woman Susanna who was accused of a crime she did not commit. In the end justice prevailed and the men who were guilty of lust and false accusation, but were not repentant and were punished. In the gospel reading we see how the woman who was caught in adultery was saved by God's mercy. The people wanted to see her punished and stoned to death, but after the encounter with Jesus, they realised that they were all sinners and need to be saved. Instead of asking for mercy they all bowed their head in shame and walked away
We must strive as much as we can not to judge people and point accusing fingers on them when we even do worse of what we accuse them of. Our effort should always be on how to help the weak to become strong and the sinners to turn away from their sins, because if the Lord should mark our guilt, non of us will be able to stand before Him.
God is merciful, but you must not take His merciful nature for granted and then continue to live in sin. He wants us to repent of our sins and anyone who turns around and call upon His name shall be saved.
God's love is immense and if we open our heart to him, we shall experience it and we shall be saved. It does not matter what your past has been. If you can make a movement towards God and amend your ways, He will forgive you and save you. Harden not your heart, but let God come into your heart and make His home in you.
Rise from where you have fallen, confess your sins, make amends and return to the Lord and you will find Him ready to embrace you.
Good morning dearest one. Smile😊as you do your work and do have a blessed day. May God speak for you and vindicate you when people accuse you of a crime you did not commit. Amen. And may the Almighty God bless you: the Father and the Son and the Holy Spirit. Amen.
Meditation: Daniel 13:1-9,15-17,19-62/Psalm 23:1-6/John 8:1-11
Watch-Word: The Lord is my Shepherd, there is nothing I shall want.
Never speak if you are not sure of what you are saying. Speak put of love to heal and not out of hatred to destroy.
(Monday of the fifth week of Lent: Day 29)