A WORD FOR TODAY 30 MAY 2020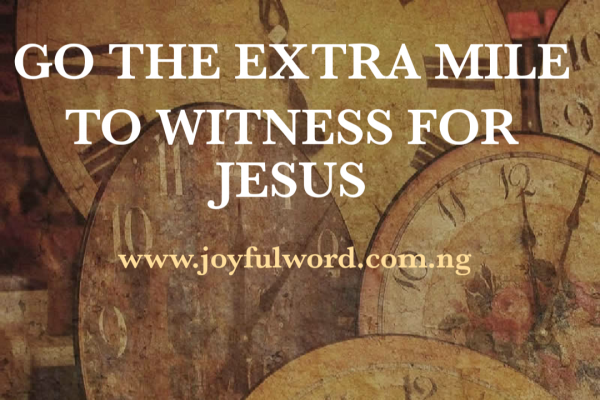 A WORD FOR TODAY
GO THE EXTRA MILE TO WITNESS FOR JESUS
"And he lived there two whole years at his own expense, and welcomed all who came to him, preaching the kingdom of God and teaching about the Lord Jesus Christ quite openly and unhindered."(Acts 28:30-31)
We see in the readings of today that anyone who truly make up his or her mind to follow Jesus must be ready to go the extra mile like saint Paul, saint Peter, saint John and the other apostles. They all suffered martyrdom for the sake of Christ and they were not afraid to die for the one who died for them. To go the extra mile simply means that you are willing to make a special effort to do or achieve something.
St. Paul in the first reading of today continued in the witnessing for our Lord Jesus Christ even as he faced incarceration and trial in Rome. He did not allow his physical pain to stop him from telling people about Jesus. This is truly what it means to go the extra mile for Him who has called us to come and serve Him in this life.
If you are not ready to go the extra mile in serving Jesus, then it will be difficult for you to please Him, because He has shown us the way to the Father and anyone who belongs to Him must definitely be committed to any cause that will bring glory to His name.*_
We all have various missions from the Lord. What the Lord will use me to do may not be what He will use you to do as we can see from the gospel reading, however, He will always make use of you in the areas where He knows that you will be useful to Him. Your own part is to be submissive to Him and allow Him to make use of you.
Going the extra mile in the things we do for God is something we must take very seriously, because that is the only way we can show God that we love Him. Do not just settle for anything less than the best in terms of your commitments to God and to the things that concerns Him. Be willing and ready to lay down your life for Him and in the end you will receive eternal reward of everlasting salvation in heaven.*_
Good morning dearest one. Smile😊 as you do your work and do have a splendid weekend. May Jesus give you the grace to go the extra mile for Him in this life and may He reward you abundantly in heaven. Amen. *And may the Almighty God bless you: the Father and the Son and the Holy Spirit. Amen.
Meditation: Acts 28:16-20,30-31/Psalm 11:4-5,7/John 21:20-25
Watch-Word: The upright shall behold your face, O Lord.
Do not give half measure in your commitment to God, give full measure and go the extra mile and you will be happy in the end.*_
(Saturday of the Seventh Week of Easter. Cycle A)