A WORD FOR TODAY 30TH OCTOBER 2019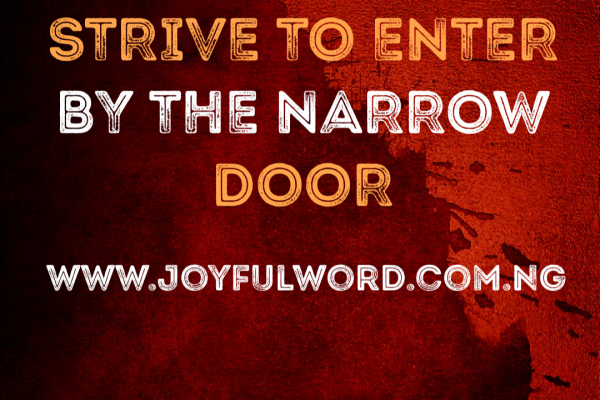 A WORD FOR TODAY
STRIVE TO ENTER BY THE NARROW DOOR
Jesus' response to the the man who wanted to know the number of those who will be saved could have come to him as a surprise, because he was expecting to get a number and a confirmation that it will be only the jews, but Jesus gave him something more than number, He said to him, 'strive to enter by the narrow door'. It is more important to live according to the standard of God so that we will be admitted into His kingdom on the last day.
Heaven is real and is open for anyone who is ready to enter, but the only condition for one to enter is to live the kind of life that will make God to recognise who we are and to be proud of us. If we do not obey God's commandment and live a holy life, it will be very difficult for God to open the door of heaven for us at the end of time.
The journey to heaven is a forward ever and backward never movement. It is an ever upward and onward movement. If anyone loses concentration and gets distracted with the things of this life, the person will not be able to reach the goal and will miss the opportunity to enter into eternal life. We must keep striving, that is, we must keep pushing forward and harder until we reach our goal. There is no time to waste in frivolities and the things that does not matter.
It is possible to bear the name Christian, but we are not Christians. Christianity goes beyond name, it is more about the attitude and lifestyle of the people who bear the name. If we must be real and authentic Christians, it must be seen in our ations, because we will love the cross, and we will be ready to lay down our lives for others. People will see what we do and they will come to believe in Christ who we represent.
The standard of heaven is different from that of this world and anyone who intends to be with the Lord on the last day must strive to enter through the narrow door. The door is narrow because it does not allow for excess luggage. You must travel light and as such you must detach yourself from anything that will be a distraction for you so as to focus on the basics that will help you to make heaven.
The Spirit of God will help us in our weakness as saint Paul noted in the first reading of today. We may not be able to pray well and live well, but the Holy Spirit will help us if we let Him come and dwell in us. We need the Holy Spirit if we are going to strive well to make heaven. We need Him to be able to to stay focused. We need Him to be able to carry our cross and love as Christ has commanded us.
Good morning dearest one. Smile😊as you do your work and do have a splendid day. May Jesus give you the grace to keep going forward in your faith without looking back. Amen. And may the Almighty God bless you: the Father and the Son and the Holy Spirit. Amen.
Meditation: Romans 8:26-30/Psalm 13:4-7/Luke 13:22-30
Watch-Word: All things work together to bring good to them that love God
To be a candidate for heaven is not just in mouth, you must work hard for it and live according to God's standard.
(Wednesday of the 30th Week in the Ordinary Time, Year C)