A WORD FOR TODAY 31 MARCH 2020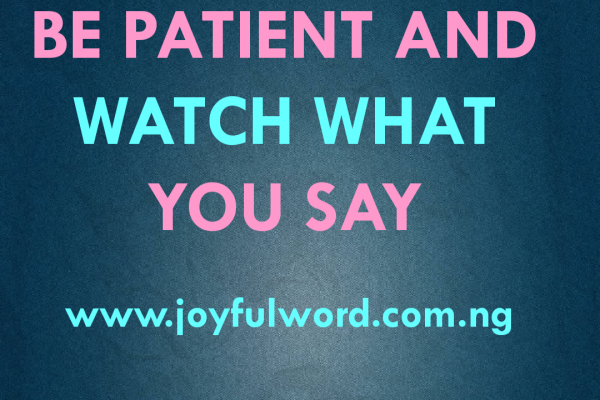 A WORD FOR TODAY
BE PATIENT AND WATCH WHAT YOU SAY
Sometimes we get impatient and in the heat of the moment we can make utterances we will later come to regret and ask ourselves, why we have made such comments in the first instance.
This is exactly what happened to the people of Israel as we have recorded in the first reading of today. They became impatient and spoke ill of Moses and God. They even forgot all that the Lord has done for them in the past by setting them free from their captivity in Egypt.*_
They suffered and were punished by God because of their lack of self-control. They were bitten by the fiery serpents and they began to die, but when they realised their mistake and came back and asked for pardon, God instructed Moses of what to do and when he did that, they were healed and saved.
When we commit sin, we begin to die, but if we repent of our sins and confess, we shall find God's mercy. Jesus is the one we shall look upon to find mercy and salvation. If we can rise and come to Him He will wash us clean and help us to become good people who will do His will.
Impatience can make you lose blessings, Impatience can make you speak arrogantly and with anger. It can also make you act proudly and you will cause harm and pain to others with your words. Therefore, strive everyday to practice the discipline of patience and do not speak when you are angry, control your temper and speak only words that will edify people and not what will cause heart attack to them. Silence is golden when you keep quiet because you know that what you will say will kill and not heal, divide and not unite, cause harm and pain and not give joy.
Watch what you say at all times. Do not speak if you do not have anything reasonable to say. Control your tongue and train yourself to apply self-control where and when necessary so as not to show that you are ungrateful through your words.
Good morning dearest one. Smile😊as you do your work and do have a splendid day. May God give you the grace to be grateful and to speak words that give life and not death. And may the Almighty God bless you: the Father and the Son and the Holy Spirit. Amen.
Meditation: Numbers 21:4-9/Psalm 102:2-3,16-21/John 8:21-30
Watch-Word: O Lord, hear my prayer, and let my cry come to you.
Watch what you say, where and when you say it, because it could either save or kill. Be patient and control your tongue.
(Tuesday of the fifth week of lent. Day 30)