A WORD FOR TODAY 31 MAY 2021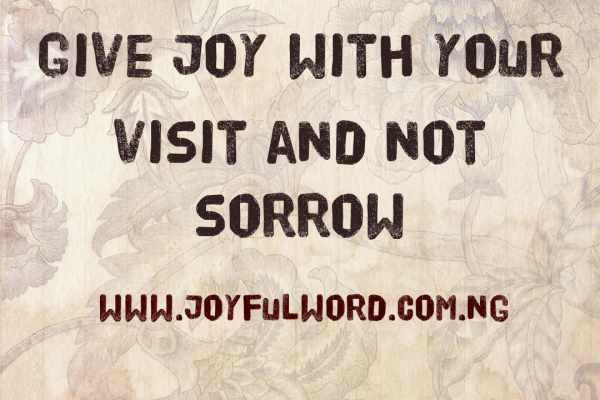 A WORD FOR TODAY
GIVE JOY WITH YOUR VISIT AND NOT SORROW
_"And when Elizabeth heard the greeting of Mary, the babe leaped in her womb; and Elizabeth was filled with the Holy Spirit and she exclaimed with a loud cry, Blessed are you among women, and blessed is the fruit of your womb."(Luke 1: 41-42)_
_*Today we celebrate the Feast of the Visitation of the Blessed Virgin Mary to Elizabeth. It is a celebration that reminds us of how good the heart of Mary is. She went with haste to visit Elizabeth and be of service to her after she had given her fiat to God at the annunciation.*_
_Visitation has to do with going to see someone to be with them, bring them words of comfort and solace in their times of pain and difficulty or to lend them support emotionally as they prepare to go through a particular phase in life. It is possible to give joy or sadness through your visit, but it will depend on what you have inside you by way of attitude and behaviour._
_*The Blessed Virgin Mary went with haste to visit Elizabeth with a singular intent to give her support as she prepares to give birth to John the Baptist. She left everything she was doing and selflessly offered her time and energy for the good of Elizabeth.*_
_The beauty of a good visit is that both the visitor and the person that is visited are bound to benefit from the visit. Elizabeth was happy when Mary's greetings came to her ear and the child in her womb leaped for Joy. Mary also must have marveled at the words of Elizabeth that she was the Mother of her Lord. The Holy Spirit inspired her to say what she said. It was divine visitation because Jesus who was in the womb of Mary also came to visit John was was in the womb of Elizabeth and the home of Elizabeth was filled with Joy._
_*Our Mother Mary was also overwhelmed with Joy like Elizabeth and she opened her mouth and sang the Magnificat. It is a hymn of praise and gratitude from the depth of her heart to the One who has done great things for her. She was not ungrateful, but fulfilled the words of the psalmist, 'I will bless the Lord at all times; His praise will always be on my lips.(Psalm 34:1)*_
_A selfish soul will never think of spending a minute of his or her time to assist another person, this can only happen when the heart is selfless. A good visitation can wipe away the sorrow on someone's face and give them the strength to carry on in life. We must explore the avenues available to visit people from time to time to give them support so as to be able to face the challenges that come to them and conquer it too._
_*Visitation is also good, because as your are supporting another person to bear their cross, you are also receiving the strength to carry yours too and your pain becomes lighter as you help them navigate the storm and turbulence in their life.*_
_We must learn from Mary to spend a little bit of our time, energy and resources to support others and encourage them through our visit to keep moving until they get to the finishing line. Make that visit today, bring joy to that soul out there that needs it, check up on someone today and you will be doing a lot of good. Let your visit bring joy and not sorrow to those around you._
_*Good morning dearest one. Smile😊as you do your work and do have a splendid day and a magnificent new week. May the Lord visit you and may His favour come upon you in abundance. Amen. And may the Almighty God bless you: the Father and the Son and the Holy Spirit. Amen.*_
*Meditation:* Zephaniah 3:14-18/Isaiah 12:2-6/Luke 1:39-56
*Watch-Word:* My soul magnifies the Lord, and my Spirit rejoices in God my Saviour.
*Come out of yourself and share your time and energy for the good of others and God will be there for you when you need His help.*
*NOTE:* As we end the may Devotion today, remember to say your Rosary and honour our Blessed Mother.
(Monday of the 9th week in the ordinary time. Feast of the Visitation of the Blessed Virgin Mary. Year 1)