A WORD FOR TODAY 31 OCTOBER 2019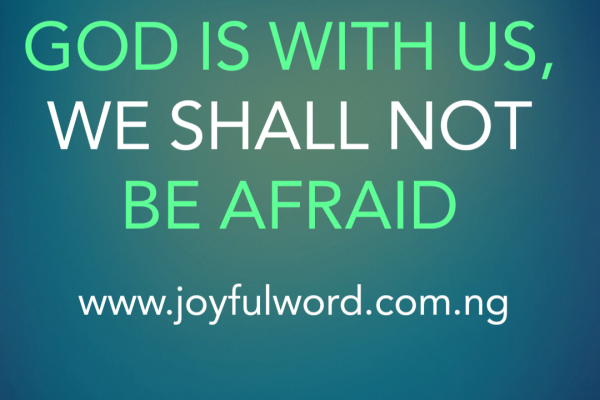 A WORD FOR TODAY
GOD IS WITH US, WE SHALL NOT BE AFRAID
When Jesus finished His work here on earth He chose disciples whose responsibility it was to continue to proclaim the Good News. He gave them a mandate to go out and win souls into His kingdom. He told them that they have been sent out as sheep among wolves, but they should not be afraid for He will be with them till the end of time.
The Christian life is a battle and anyone who follows Jesus must strive everyday to represent the light so as to defeat the powers of darkness and evil. Forces of evil will wage war against us to make us denounce our faith and God and to become evil. However, since we are in Christ and has surrendered ourselves to Him, He will give us the grace to overcome. God is with us and as such, no one can be against us, because He will fight our battle and He will win the battle for us.
There is never a time Jesus promised us a painless and crossless Christianity, instead, He made it clear that anyone who will follow Him must bear a cross. The cross can come through persecution, trials tribulations, rejection, attacks, hatred, envy, jealousy and so on, however, if we abide in Him, we shall not be afraid, because He will fight the battle for us and give us victory._
When we choose to follow Jesus, live a holy life and represent the light in the world, we will become an enemy to the evil one who will fight us in different ways to pull us down and make us remain in bondage. Saint Paul admonishes us in the first reading of today not to let anything come between us and separate us from the love of God. We are more that conquerors because God's love is with us and His grace is helping us to conquer.
We should not fear when we have Jesus, because He will always give us the strength to overcome evil and the challenges of life that wage war against us. The turbulence and storms of life will come, but anyone who is in Christ Jesus will always overcome. God sent His only Son to come and die for us and He is willing to do anything in order to deliver us from the hands of the evil one. Our main goal always should be to remain in Him, love Him and to put our total trust in Him always, because our help and victory over sin and the challenges of life will come from Him.
The threat of Herod did not stop Jesus from proclaiming the Good News, therefore, we should never stop praising the Lord even if things are not going as we wish in our lives. We must stay connected to Him and our victory will come, for He will never fail and will never abandon those who put their trust in Him.
Good morning dearest one. Smile😊as do your work and do have a magnificent day. May Jesus fight your battle and may He give your victory over sin and the forces of evil. Amen. And may the Almighty God bless you: the Father and the Son and the Holy Spirit. Amen.
Meditation: Romans 8:31-39/Psalm 109:21-22,26-27,30-31/Luke 13:31-35
Watch-Word: If God is for us who can be against us.!
When you let fear of the evil one occupy your heart, you expose yourself to the enemy that will destroy you. Do not be afraid, because we have God who takes care for us and will not let the devil destroy us.
(Thursday of the 30th week in the Ordinary Time, Year C)