A WORD FOR TODAY 4 APRIL 2020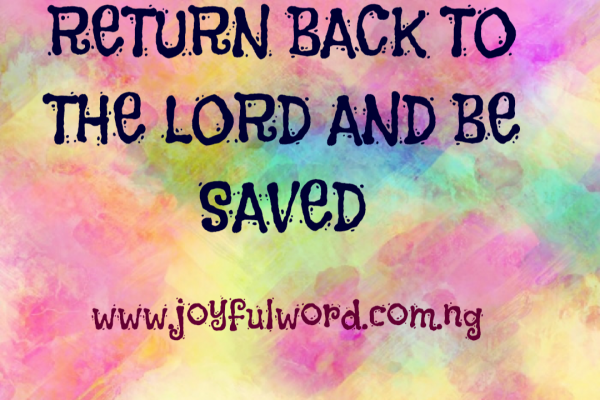 A WORD FOR TODAY
RETURN BACK TO THE LORD AND BE SAVED
"But one of them, Ca′iaphas, who was high priest that year, said to them, "You know nothing at all; you do not understand that it is expedient for you that one man should die for the people, and that the whole nation should not perish." (John 11:45-57)
The mission of Jesus in the world was to save us from eternal damnation. He came not for Himself, but for us who have been held in bondage by sin. He did everything to save us, but we must play our own part to return to Him.
The promise of God to gather his children together into one place where He will be their God and they will be His people as we have recorded in the first reading of today is something that came to fulfilment in Christ. Jesus came to redeem man and to reconcile men to God so that they will not perish but have eternal life.
If we are going to be saved we must accept Jesus as our personal Lord and Saviour and return back to Him. It is only in this way that we will find salvation. To accept Him is to be saved, but to reject Him is to perish.
Our attitude when we approach God's presence will be one of humility. We must acknowledge that we are nothing without Him and we cannot help ourselves if He does not take care of us. It is only in this way that we are going to find mercy and redemption.
We must not be like the Pharisees who refused to believe in Christ. We must open our heart to Him and let Him come in and dwell in us. He will transform us and our hearts shall be filled with joy. He died for us and by His death and resurrection we have been redeemed, we must not let anything hold us back from coming to Him to find salvation which He has won for us by the shedding of His blood.
Good morning dearest one. Smile😊as you do your work and do have a beautiful day. May God's grace help you to return back home and may you find eternal life as you seek Him. Amen. And may the Almighty God bless you: the Father and the Son and the Holy Spirit. Amen.
Meditation: Ezekiel 37:21-28/Jeremiah 31:10-13/John 11:45-57
Watch-Word: The Lord will keep us as a Shepherd keeps His flock
Do not refuse to accept Jesus, because only Him can save you and if you miss Him, you have missed everything.
(Saturday of the fifth week in Lent. Day 34.)