A WORD FOR TODAY 4 FEBRUARY 2020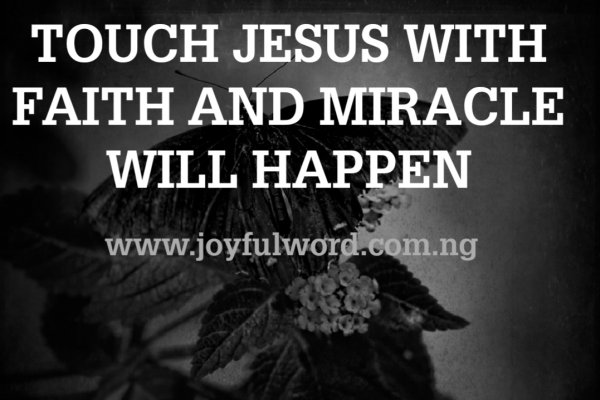 A WORD FOR TODAY
TOUCH JESUS WITH FAITH AND MIRACLE WILL HAPPEN.
When we are sick we must seek the attention of doctors, because they have acquired the knowledge with which to help the sick and treat them so as to make them well again. However, the truth has to be told, the doctors can treat, but only God can heal.
This, we can see in the gospel reading of today, how with faith, Jairus and the woman with the issue of blood both touched Jesus and they received the healing and help they needed. Jairus was interceding for his daughter, but he had faith in Jesus and that faith made the daughter who was dead before Jesus arrived to rise at His words, "Talitha Cumi, little girl, I say to you, Arise."
Jairus was patient and waited for Him with faith. He never lost his cool, but was humble and he persevered, because he knew that Jesus has the power to help his daughter and indeed when He finally came, the child came back to life. When faith knocks at the door of God, miracle definitely happens.
The woman with the issue of blood, touched Jesus with faith and she was healed of the infirmity that has troubled her for twelve years. She could not get help anyother place until she came to Jesus with faith. If we touch Jesus with faith, we must surely find answers to the petitions we make.
What are you waiting for to activate your faith and to believe in Jesus who can help you. No matter the pain and trouble that surrounds you, know it today that Jesus can do all things, therefore, put your trust in Him and see Him turn things around for you.
To touch Jesus with faith is to believe in Him at all times. It means not to doubt, but to trust in His power to do for you what you seek once it is in accordance with His will. Come to Him in prayer with faith today, touch Him with your faith and power will come from Him to do for you what you seek. Healing, salvation, restoration, joy, peace, fruitfulness and much more are possible for us if only we will touch the Lord with faith
Good morning dearest one. Smile😊as you do your work and do have a miraculous day. May Jesus hear you when you call upon Him and may your miracle happen. Amen. And may the Almighty God bless you: the Father and the Son and the Holy Spirit. Amen.
Meditation: 2 Samuel 18:9-10,14, 24-25,30-19:3/Psalm 86:1-6/Mark 5:21-43
Watch-Word: Do not fear, only believe.
The best way to approach God is to come with faith, because any heart that cries with faith will find answers from Him.
(Tuesday of the fourth week in Ordinary Time, Year II)