A WORD FOR TODAY 4 MARCH 2020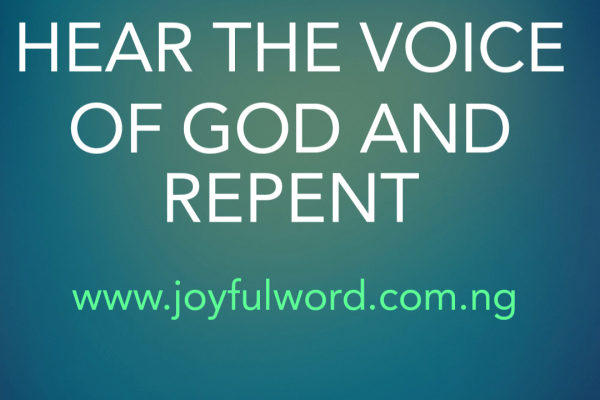 A WORD FOR TODAY
HEAR THE VOICE OF GOD AND REPENT
You know a humble person when he or she acts. The person will be willing and ready to apologise when he has done wrong and then make amends. This is not the same with a proud person, he will have many reasons to defend why he acts the way he does, even when they are very wrong.
The people of Nineveh did what was wrong before the Lord and when they heard the voice of the Lord through Jonah, they humbled themselves, repented of their sins and the Lord showed them mercy.
The Lord's voice is calling us to repentance in this season of lent. If we do, we shall find life and we will be happy, because our repentance will bring us peace and tranquility. Do not harden your heart when you hear His word, let it move you to turn away from your evil ways so that you will have life.
How many times you have fallen into sin does not really matter, but what you do when you fall is what counts. Do you stay where you have fallen or are you moved with contrition in your heart to seek God's mercy and forgiveness. Jesus is ready to forgive us if we are ready to draw nearer to Him and change.
Do not let that sin hold you at ransom. The power of Jesus' mercy can set you free. Humble yourself and seek His face. Aknowledge your sins before Him and turn away from things, places, persons or occasions that make you fall into sin so that your light will shine once again.
Be the voice that will speak light and life into the heart of those who are still held bound by the power of sin so that they can change. God loves you and He will be happy if you will hear His voice and turn away from your evil ways and live.
Good morning dearest one. Smile😊as you do your work and do have a merciful day. May God be merciful to you as you come before His presence. Amen. And may the Almighty God bless you: the Father and the Son and the Holy Spirit. Amen.
Meditation: Jonah 43:1-10/Psalm 51:3-4,12-13,18-19/Luke 11:29-32
Watch-Word: Create a pure heart for me, O God
Rise from where you have fallen and return to the Lord, for He is waiting for you.
(Wednesday of the first week of Lent. Cycle A, Day 7)