A WORD FOR TODAY 4 MAY 2020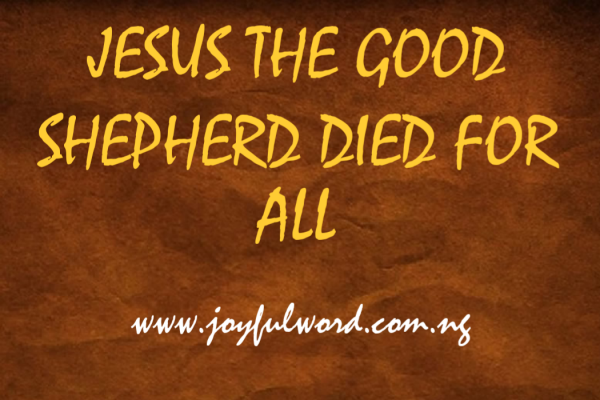 A WORD FOR TODAY
JESUS THE GOOD SHEPHERD DIED FOR ALL
"I am the good shepherd. The good shepherd lays down his life for the sheep. He who is a hireling and not a shepherd, whose own the sheep are not, sees the wolf coming and leaves the sheep and flees; and the wolf snatches them and scatters them. He flees because he is a hireling and cares nothing for the sheep. I am the good shepherd; I know my own and my own know me" (John 10:11-14)_
We continue today on our discussion about Jesus the Good Shepherd. Yesterday we encouraged us to listen to His voice and do what He tells us. Today we are reminded that the Good Shepherd died for all and it is His will that all will be saved and become one flock under a single Shepherd.
Jesus is the Good Shepherd who laid down His life for His flock and He did it because of His love for us. This is what we see in the first reading of today where Peter was explaining to the other disciples who were accusing him of associating with unbelievers, that it was actually by the direction of the Holy Spirit that he did what he did and that the so called gentiles have received the Holy Spirit.
Jesus died for all and the salvation he obtained for us through His death and resurrection is for all without any discrimination. Anyone who opens his or her heart and accept Him will be saved. He is for the rich, He is for the poor. He is for white, He is for black, He does not discriminate but continues to call all His children everywhere to come to know Him and believe in Him so that they will be saved.
Jesus is the Good Shepherd who cares for us and is ever ready to defend us. He has loved us from the very beginning and has shown us the measure of His love by laying down His life as a ransom for many. He does not leave us to be destroyed by the wolves, instead He stands with us and fights off the wolves that come to destroy us. Wolves of hunger, disease, false prophets, sinfulness, bad friends and so on, He will fight for us and He will bring us victory.
His love is for all and His favour is for all. Anyone who welcomes Him will definitely receive His blessings and favours. The good Shepherd does not discrimininate and we must learn from Him to love all people without discrimination. God's gift is not exclusive to any particular individual or tribe or tongue, but it comes to all irrespective of where you come from and the language you speak.
As we listen to the voice of the good Shepherd we must be willing and ready to be like Him and to let the world know that we belong to Him through our words and actions. We should always do everything within our power to help others to come to know Him.
Good morning dearest one. Smile😊as you do your work and do have a splendid new week. May Jesus the good shepherd protect you from the attacks of the wolves in sheep clothing. Amen. And may the Almighty God bless you: the Father and the Son and the Holy Spirit. Amen.
Meditation: Acts 11:1-18/Psalm 42:2-3;43:3,4/John 10:11-18
Watch-Word: My soul is thirsting for you, the living God.
The Good Shepherd stands by you in good times and bad and will never leave you to be destroyed by the wolves. Jesus is the Good Shepherd, stand with Him always.
(Monday of the Fourth Week of Easter. Cycle A)