A WORD FOR TODAY 4 OCTOBER 2019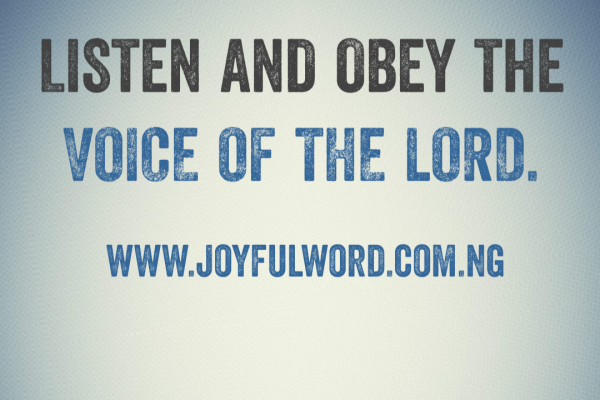 A WORD FOR TODAY
LISTEN AND OBEY THE VOICE OF THE LORD
The prophet Baruch reminds us in the first reading of today that we should always aim for righteousness and strive to walk in the statues of the Lord and by so doing we will avoid bringing confusion into our lives. If we are going to be a happy people in this life, we must obey the Lord and act in accordance to His will.
Sin is an act of disobedience and it is very destructive, because it not only separates us from God and severes our relationship with Him, it also destroys the peace we are to have in our soul. This is the reason we should rise up from where we have fallen today to seek the face of the Lord for mercy and forgiveness. God is ready to welcome us back if we are ready to make amends and confess our sins.
Jesus was not happy with the people of Chorazin and Bethsaida as we have in the gospel reading. Many mighty works were done among them, but still they refused to repent. They hardened their hearts and refused to accept the message of the Lord. We should never harden our heart when we hear God's voice calling us back to Himself. We should rise up immediately and return back to the Lord who is ever ready to welcome us back and transform us.
The more we refuse to hearken to the voice of God in obedience, the more we drift away from Him and the more we become instruments in the hands of the evil one. Sin brings us down from where the Lord has placed us and it hooks us into bondade and we will no longer feel free to approach our loving Father.
The first thing to do in order to get healed from sin is to acknowledge that we have sinned. It must pain us in the heart that we have abandoned the way of the Lord to seek earthly pleasures. We must be remorseful and contrite, then we must reject our old ways totally and come back to the Lord and dialogue with Him through the sacrament of reconciliation. We must make amends and retrace our steps. We must reject evil and seek righteousness always, because when we sin we not only offend God, we also harm our neighbour who is affected by our evil act.
God speaks to us everyday and if we obey His voice and do what He tells us we shall be happy and we shall be fulfilled in life, but if we refuse to listen to Him, we shall be lost and our soul shall be sad and confused and we shall have no peace. It is more important to repent of our sins and seek the face of God sincerely than to desire miracles. Our freedom, restoration and healing mercy will come from the Lord, but we must draw close to Him and let go of our evil ways so as to become a new creation.
Today we celebrate the memorial of saint Francis of Assisi, who although was born into a wealthy family has to give up his inheritance in order to become a friend and disciple of Jesus for the poor. He preached the love of God and His creatures to all and he is the founder of the Franciscan order. He lived his life for the poor for the sake of Christ. We must learn from him to detach ourselves from the things of this life so as to be free to serve our God well in the people, especially in the poor and needy.
Good morning dearest one. Smile😊as you do your work and do have a peaceful day. May God's grace help you to turn away from your sins to seek His face so that you can find peace for your soul. Amen. And may the Almighty God bless you: the Father and the Son and the Holy Spirit. Amen.
Meditation: Baruch 1:15-21/Psalm 79:1-5,8-9/Luke 10:13-16
Watch-Word: Today if you hear His voice, harden not your heart.
God's mercy is greater than any sin you have committed. Rise up, come back to Him, confess your sins and you will find mercy and peace for your guilty conscience and your troubled soul.
(Friday of the 26th week in the Ordinary Time, Year 1)