A WORD FOR TODAY 4 SEPTEMBER 2019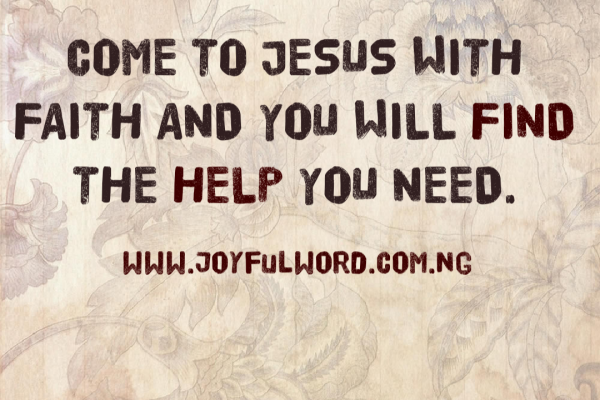 A WORD FOR TODAY
Our Lord Jesus Christ came into the world with the mission and purpose to set us free. He proclaimed the Good News to all the people and healed all those were sick. He also cast out demons that tormented the people and gave them a new life through His words.
This is His mission and He never deviated from it, He stayed through to it till the end of His earthly existence. Anyone who came to Him with faith received blessings because He was available to all and was ready and willing to help all those in need.
We have Jesus and therefore we must always come to Him with hope and trust knowing that He is more than able to help us. He is always available to help those in need to find the help they need. He was always ready to serve and did not mind that the people had disturbed his time of rest. He had compassion on them and helped them to get well.
However, in helping the people Jesus was always able to find a quality time to be with the Father to renew His strength. He will always go to a lonely place early in the morning to pray and commune with the Father. We must learn from Him to be available always and to be at the service of humanity. We must also, find a quality time to be with the Father in prayers so as to always have the strength to do good in His name.
Come to Jesus today with your needs and be rest assured that He will help you. He can never allow the challenges you face to conquer you if you put your trust in Him. No matter what the problem is, God is bigger than it and His help is always available to those who approach his presence with hope, faith and trust.
As we receive help from Jesus in our times of need we must also go out like Jesus to be of help to others. We must spend ourselves doing God's work and helping others to find Him who will help them to find salvation and healing of soul and body.
Good morning dearest one. Smile😊as you do your work and do have a splendid day. May Jesus heal and deliver you from every force of evil tormenting your life. Amen. *And may the Almighty God bless you: the Father and the Son and the Holy Spirit. Amen.
Mediation: Colossians 1:1-8/Psalm 54:10,11/Luke 4:38-44/
Waych-Word: I trust in the mercy of God for ever and ever.

Jesus is ready to help us if we are ready to come to Him. Do not delay anymore, come to Him with faith and you will find the miracle you seek.
Wednesday of the 22nd week in the ordinary time cycle 1