A WORD FOR TODAY 5 AUGUST 2019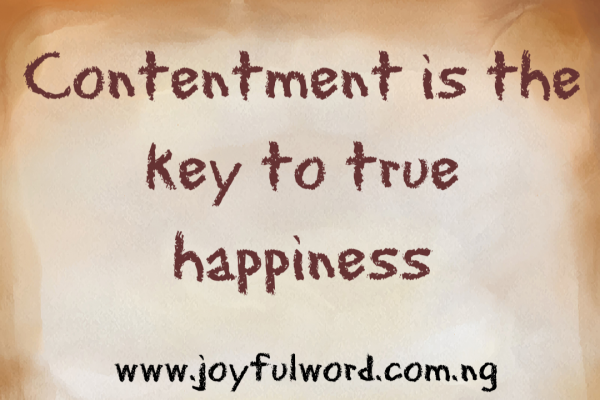 A WORD FOR TODAY
The behaviour of the people of Israel in the first reading of today gives us a teaching about a people who were not contented with what they have, but were very insatiable and complained bitterly to Moses and he prayed to God for help. God gave them Manna from heaven, but they wanted more and craved for the things they used to eat in the land of slavery.
Their attitude represented ungratefulness and ingratitude to a God who has delivered them from captivity and is taking them to the land he promised, where they will have all that they need in abundance. They lost their patience and became irritated and that made them to complain too much and their attitude put a lot of pressure on Moses the leader.
We must learn from this piece to always be grateful to God and be contented for what we have at the moment. We must be patient and take life easy as it comes, one thing at a time. We can never have everything we desire, therefore there is need to be patient and calm even in our moment of lack and have hope that God will make provisions for us always.
Jesus had compassion on the crowd that gathered to listen to Him and He provided for them something to eat. They were fed with the Word of God and He also gave them physical food to eat. This is the kind of attitude we should have in us. We must be concerned of the need of our brothers and sisters and see how we can help them.
When we draw near to God and feed from Him, we will be satisfied because God knows all that we need and He has the power to make things turn around for the better for us. We must rely on divine providence and be contented with whatever He has given to us.
What the disciples provided was very inadequate compared to the number of the crowd, but when Jesus prayed and blessed it, the food became sufficient for all and they had some left over. We must have faith in God at all times to always see us through our times of lack and need. With Him all things are possible and He can always help us in our times of need. The Lord will supply all your needs according to His riches in glory in Christ Jesus.(Phillipians 4:19)
Good morning dearest one. Smile😊as you do your work and do have a blessed new week. May Jesus give you the grace of contentment and may He provide for whatever is lacking in your life at the moment. Amen. And may the Almighty God bless you: the Father and the Son and the Holy Spirit. Amen.
Meditation: Numbers 11:4-15/Psalm 81:12-17/Matthew 14:13-21
Watch-Word:* Give them something to eat yourselves.
Do not forget what the Lord has done for you. Be grateful, stay calm, be patient, be contented and trust in Him to take care of you always.