A WORD FOR TODAY 5 DECEMBER 2019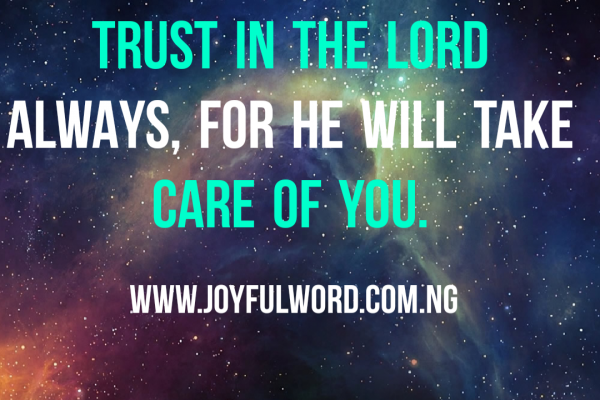 A WORD FOR TODAY
TRUST IN THE LORD ALWAYS, FOR HE WILL TAKE CARE OF YOU
When you know the strength and capacity of the one you are following, you will either be at peace or you will be worried. If the person is weak and uncoordinated, you will be troubled because he may not be able to protect you when there is danger, but if the person is strong and focused, you will not be afraid, but believe strongly in his power to keep you safe.
There are gods in this life, but there is only One true and living God. He is the creator of heaven and earth, maker of all things visible and invisible. His power is supreme and He is the everlasting rock that can never be shaken. Therefore, to trust in the Lord totally and completely without doubt will be the best thing that could happen to anyone wish to journey through this life and come out victorious.
To trust in the Lord means to place yourself in His hands to take care of you. It means to handover to Him everything that concerns you. When you are in Him who is our everlasting rock, nothing in this life can shake you because He will keep you safe and defend you in times of danger. It will be a serious mistake on our part if we abandon the living God and go to patronize other man made gods or their agents that will not be able to take care of us or save us from eternal damnation.
We are preparing for the celebration of Christmas and it should be a time when we must deepen our faith and trust in God by listening to His word and doing what He commands. This will make the Lord know that we have accepted Him and He will speak for us, protect and defend us against the forces of evil. Your trust in God will grow when you understand truly that with God all things are possible and anyone who follows Him will never be disappointed.
Build your house upon the solid rock who is our Lord Jesus Christ and no harm will come upon you. When the troubles of this life come hitting at you, the Lord will shield you from their destructive rage. He will protect you and keep you safe, because you belong to Him. Fear not anymore, for you have a God who is capable to help you and save you from the hands of the evil one. Hold unto Him firmly and never leave Him to follow other gods.
Let your faith be solidly grounded and rooted in God's word and as you obey God's command and do what He wants, you will definitely be happy and God will always take care of you. No matter what life throws at you, you will not be shaken, because you are standing upon the solid rock our Lord Jesus Christ.
Good morning dearest one. Smile😊as you do your work and do have a blessed day. May Jesus our everlasting rock keep you safe at all times and may His blessings never depart from you. Amen. *And may the Almighty God bless you: the Father and the Son and the Holy Spirit. Amen.
Meditation: Isaiah 26:1-6/Psalm 118:1,8-9,19-21,25-27/Matthew 7:21,24-27
Watch-Word: Seek the Lord while He may be found, call upon Him while He is near.
Trust in the Lord always! do not doubt, because He will never fail you.
(Thursday of the first week of Advent, Year A)