A WORD FOR TODAY 5 FEBRUARY 2020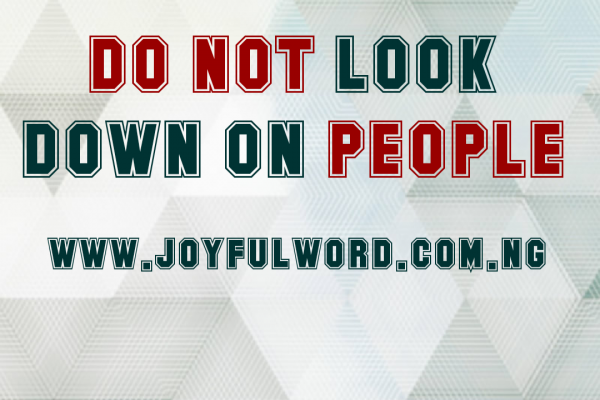 A WORD FOR TODAY
DO NOT LOOK DOWN ON PEOPLE
In a world where we have different classes of people according to human making we tend to judge people based on their physical appearance and what we think they can offer. Sometimes our judgement are wrong because what we think they are may not be what and who they are.
The gospel reading of today presents us with what happened when Jesus came to His hometown to proclaim the Good News. He could not perform much miracles because His people looked down on Him, and the reason for their attitude is because they knew His parents and how lowly they are.
In their mind, Joseph is a carpenter and Mary is an ordinary house wife and therefore, there is no way Jesus would have become great. Infact, they could only see as humans, but God knows that Jesus is the Messiah who has come to save them.
Never let your familiarity with people make you to look down on them. The person you look down upon today could be your saviour tomorrow. Try to be open minded and understand that everyone will not be like you or be judged by your standards, because we are all different.
Do not look down on people because they do not have what you want, do not look down on people because you have what they do not have. Do not look down on people, because you have privileges and benefits you enjoy. Try and respect people irrespective of their status in life, whether they are cleaners, artisans, carpenters, hair dressers, petty traders, painters, bricklayers and so on. There is always something positive they can add to your life.
Today we celebrate the memorial of saint Agatha (Virgin and Martyr) She refused to give in to the desires of her persecutors and accepted to die instead of offend God. Let us learn from her to always be ready to do God's will and be ready to die for the sake of Christ.
Good morning dearest one. Smile😊 as you do your work and may God's grace help you to be humble, as you genuinely seek His face. And may the Almigty God bless you: the Father and the Son and the Holy Spirit. Amen.
Meditation: 2 Samuel 24:2, 9-17/Psalm 32:1-7/Mark)
Watch-Word: honour everyone and make sure you treat them well.
You gain nothing by looking down on people, but you gain all things by treating them with respect and honour.
(Wednesday of the fourth week in Ordinary Time, Year II)