A WORD FOR TODAY 5 JUNE 2020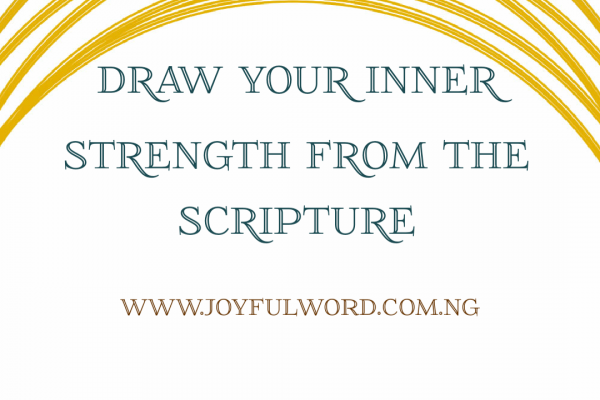 A WORD FOR TODAY
DRAW YOUR INNER STRENGTH FROM THE SCRIPTURE
"All scripture is inspired by God and profitable for teaching, for reproof, for correction, and for training in righteousness, that the man of God may be complete, equipped for every good work."(2 Timothy 3:10-17)
The admonition of saint Paul to Timothy moves to a higher level today in the first reading. He advised him to remain steadfast when he is persecuted, because anyone who choose to live a godly life must surely suffer in the hands of all those who do not want the righteous to make any progress in this life.
Sometimes, the weight of what we suffer in this life can become too burdensome and can make us to crash if nothing is done to help us. The question that readily comes to mind in such moment is, what can I do to stay strong so that the turbulence and storms of life which pummel me everyday will not overwhelm me?
Saint Paul tells Timothy that once you set out to live a good life and to do God's will, you will suffer persecutions in the hands of the people, however God does not abandon His children, but will rescue them. Times of pain, worry and anxiety are moments we must put our trust in God, because He will never abandon us.
One of the things that will help us in the times of persecution is to feed our soul with Gods word. The Scriptures will serve as our source of strength and spiritual energy to be able to remain steadfast in the face of the challenges of life which include; hunger, wickedness, injustice, oppression, sickness, unemployment, abuse of various kinds, discrimination, racism and so on. We must feed our soul with God's word and we will never fall or be defeated if we put our trust in God.
All Scriptures are inspired by God and profitable for teaching, for reproof, for correction, and for training in righteousness, that the man of God may be complete and equipped for every good work. Therefore, draw your strength from God's word and use it to live your life. Teach others with God's word and inspire them to live a godly life. Love God's word, read and meditate on it daily and you will have great peace for your soul. You will have the power to overcome whatever force of evil and temptation that may rise against you.
Today the Church celebrates the memorial of saint Boniface (675-754). He was a preacher and teacher who left his country England to go and evangelize the people of Germany and Holland. He was killed in the course of his missionary activity. Let us learn from him to be ready to propagate God's word always and to be ready to die for the sake of Christ.
Good morning dearest one. Smile😊as you do your work and do have a peaceful day. May God's word give you the inner strength to conquer the troubles of this life. Amen. And may the Almighty God bless you: the Father and the Son and the Holy Spirit. Amen.
Meditation: 2 Timothy 3:10-17/Psalm 119:157,160,161,165-168/Mark 12:35-37
Watch-Word: The lovers of your law have great peace.
When you feed of God's word, you will have the inner and spiritual strength to win every battle that comes your way.*_
(Friday of the 9th week in the Ordinary Time. Year II. Memorial of saint Boniface)