A WORD FOR TODAY 5 MARCH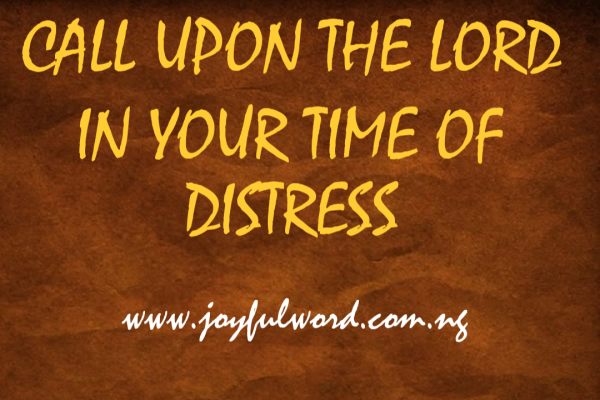 A WORD FOR TODAY
CALL UPON THE LORD IN YOUR TIME OF DISTRESS
I have come to see and experienced in this life, situations that will make you cry and sometimes confused that you may not even know what to do and how to go about handling it. In such moments, you need God's grace to help you not to lose heart but to call upon Him who is always ready to help us.
Esther the queen in the first treading of today called upon the Lord in her time of distress. She had no other person to call upon, but when she spoke to God about the threat of destruction that has been planned for her people, the Lord heard her prayer and intervened.*_
Challenging and difficult times can come to us from time to time. We should not panic or lose heart, because we have God by our side and He does not abandon those who put their trust in Him. No matter how the situation is for you at the moment, I want to assure you that God can help you, if you call upon Him with faith.
Prayer works and anyone who can pray, will always experience God's intervention in his or her life. Therefore, take that matter to Jesus in prayer today and you will see God do for you what you cannot do for yourself.*_
Jesus tells his disciples in the gospel reading to ask, because they will receive, to knock, because the door will be opened for them and to seek, because they will find. God is always ready to give us what will be good for us when we pray to Him, but we must trust Him to take care of us and we must plaec everything in His hand.
Are you in pains or in any kind of trouble, are things not working out the way you have planned them? Are you sick and confused? Are you under any kind of attack, physical or spiritual? Whatever the issue may be, take it to God in prayer, call upon Him with faith and you will experience His help as never before.
Good morning dearest one. Smile😊as you do your work and do have a joyful day. May God hear your voice when you call upon Him. Amen. And may the Almighty God bless you: the Father and the Son and the Holy Spirit. Amen.
Meditation: Esther 14:1,3-4,11,13-14/Pslm 138:1-3,7-8/Matthew 7:7-12
Prayer is the key, never underestimate the power of prayer. Pray well for God will hear your voice and help you.
(Thursday of the first week of Lent. Day 8)