A WORD FOR TODAY 5 MAY 2020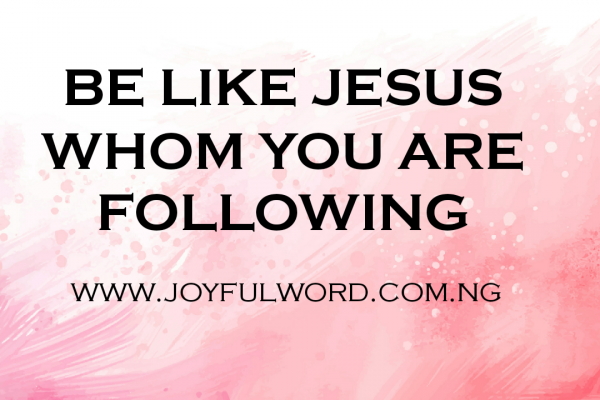 A WORD FOR TODAY
BE LIKE JESUS WHOM YOU ARE FOLLOWING
"So Barnabas went to Tarsus to look for Saul; and when he had found him, he brought him to Antioch. For a whole year they met with the church, and taught a large company of people; and in Antioch the disciples were for the first time called Christians."(Acts 11:25-26)
The disciples of Jesus strived everyday after Jesus had ascended into heaven to continue to proclaim the Good News, because they have come to believe that it is the only way by which souls will be saved. They were not afraid of persecution, but utilised every opportunity they got to preach Christ crucified, not just in words, but more importantly in their actions and the people of Antioch after seeing the correspondence between what they are doing and what Jesus did, they called them Christians.
It is not enough to claim to be a child of God if you cannot be like Jesus whom you claim to follow. If there is a discrepancy between the things you say about Christ and your actual lifestyle, then something is wrong and you may never succeed in winning any soul to God._
We see Jesus tell the Jews who gathered round him in the gospel reading that they do not believe that He is Christ, because they do not belong to Him. This is true, because if we belong to Him we must definitely believe in Him and in obedience we must do what He wants. If we intend to be called the disciples of Jesus in reality, we must work hard to grow our faith in Him, know Him deeply and then witness for Him everywhere without shame.
The disciples were called Christians in Antioch, because the people must have seen something in them that convinced them that they were another Christ. This is what our life should be. People should know us that we belong to Christ through what we say and what we do. The two must go together if we are going to win any soul for Christ.
We must be like Jesus whom we are following. We must love like Him, be compassionate and merciful, give hope, forgive others, be just and upright. We must be prayerful, humble and obedient and we must shine out as the light. Anything short of this will make us not to be like Him whom we claim to be following. People should know that we belong to Christ through the fruits we bear.
Good morning dearest one. Smile😊as you do your work and do have a wonderful day. May Jesus help you to always be like Him at all times and in all places. Amen. And may the Almighty God bless you: the Father and the Son and the Holy Spirit. Amen.
Meditation: Acts 11:19-26/Psalm 87:1-7/John 10:22-30
Watch-Word: My sheep hear my voice, says the Lord, I know them and they follow me.
There is no need trying to speak so much to convince people that you belong to Christ. Be Christ-like in words and deeds and they will see it in you and be convinced.
(Tuesday of the fourth Week of Easter. Cycle A)