A WORD FOR TODAY 5 NOVEMBER 2019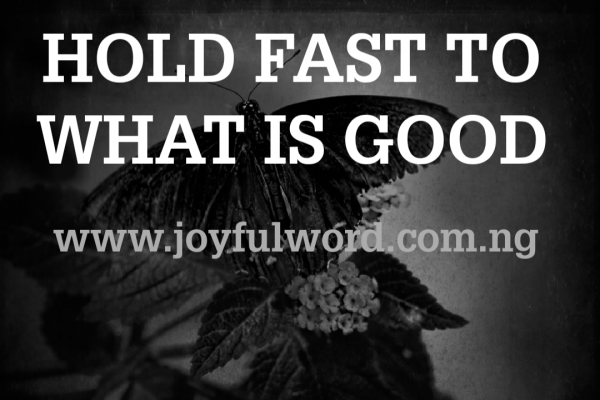 A WORD FOR TODAY
HOLD FAST TO WHAT IS GOOD
The best way to show and prove that we are true disciples of Jesus Christ is in the things we do. If we must follow Jesus we must live according to His rule and when people see us or come in contact with us, they will experience God's love and mercy through us and in that way we will win their souls for Christ.
Saint Paul in the first reading of today reminds us that we are one body in Christ and individual members of one another. We are gifted differently by the same God and He expects us to use our gifts well for the good of the people of God. If you do your work well and I do mine well, the world will be a better place. Therefore, no one is more important than the other we are all useful and each of us has something to offer for the good of humanity and for the glory of God.
If we truly love as Christ has instructed us to love, we will hate what is evil and hold fast to what is good. We must be alive in the Spirit serving the Lord. We must not be envious or jealous of one another, but our greatest aim will be to outdo one another in showing love and in doing good. We will be patient in times of trial and when we are persecuted we will not pay back evil with evil, we shall bless those who cause us pain and we will never curse them. Our prayer life will be constant and our generousity to the needy will be very inspiring. All these and more will be possible if we let the love of Christ dwell in our heart and allow the Holy Spirit to be our guide.
If we love this way, we will show the world that we belong to Christ and anyone who sees us will not find it difficult to identify where our true allegiance lies. The ways of the children of God is the way of light and love of God and anyone who cannot shine as the light in the world and love genuinely as the master cannot be a friend of God or His representative. What the world offers is different from what Christ is offering us, the choice is ours to make of what and who we want to be.
God's invitation is for all as we can see in the gospel reading. No one is exempt except the one who chooses not to respond to the invite. We have all been invited to the banquet of the Lord and if we respond positively we shall enjoy the banquet, but if we decline through our attitude and behaviour we shall miss out on this opportunity. The choice is ours to make whether we want to go or not. If we give excuse and lose focus we will never answer this call and we will be the one to lose. Never allow your love for the things of this life to make you have no time for your God. This will simply be a grave mistake that could cost us a seat in God's banquet.
Our response to God's invitation to the banquet either positively or negatively will show in the things we do and how we live our life. If we hold fast to what is good, helping the needy, empathize with the weak, instruct the ignorant, feed the hungry, assist the sick and do everything that is honourable and glorify the name of God, we shall definitely be admitted into the eternal banquet in heaven on the last day. Therefore, keep doing good and love more as God has loved us and you will not miss this opportunity to dine with the Lord in the end.
Good morning dearest one. Smile😊as you do your work and do have a wonderful day. May God's grace help you to live well so that you will not miss the eternal banquet in God's kingdom. Amen. *And may the Almighty God bless you: the Father and the Son and the Holy Spirit. Amen.
Meditation: Romans 12:5-16/Psalm 131:1-3/Luke 14:15-24
Watch-Word: Bless those who persecute you, bless and do not curse.
Anytime you choose the world above God, you remove your name from the list of those who will feast with the Lord at His banquet. The invitation is for all, but it is your choice whether to answer or not.
(Tuesday of the 31st Week in the Ordinary Time, Year 1)