A WORD FOR TODAY 5 OCTOBER 2019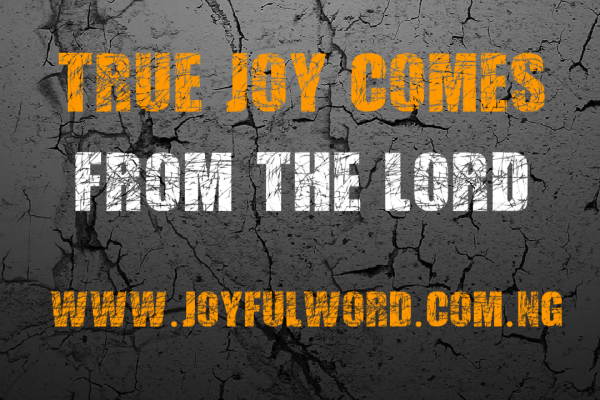 A WORD FOR TODAY
TRUE JOY COMES FROM GOD
Anytime we turn around from our evil ways and return back to the Lord, the gift we get is eternal joy in our soul. Sin wounds us and takes away our joy, but when we repent of our sins and seek the Lord with a pure and sincere heart, our Joy is restored and God comes to reign in our heart again.
The Prophet Baruch reminds the people of Israel once again, that their sins contributed to the sorrow they experienced, but if they will turn around and return with tenfold zeal to seek the Lord, their joy will be restored. This is something we must learn from, because it is only in God that we can have true joy in this life.
If we stay close to Jesus and do what He commands, we shall always be happy. This is exactly what we see in the gospel reading of today. The disciples who were sent out by Jesus came back rejoicing, because they experienced something different. They were able to perform a lot of miracles in the name of Jesus, but Jesus reminded them that their joy should come more from the fact that their names are written in the book of life and not just that the spirits are subject to them in His name.
If we obey Jesus' command, the victory He won on the cross will always be manifest in our lives. Satan has been defeated and we must not become afraid of him or let him hold us in bondage anymore. Our faith should be in Jesus in whose name we shall always conquer the forces of evil and become victorious.
God is ready to use us, if we are ready to draw close to Him and surrender ourselves to Him. However, when He makes use of us to do great and marvelous things, we must continue to remain humble and attribute the glory to Him as the source of our power and by so doing we shall always be joyful and we shall have peace.
To have an enduring relationship with our Lord Jesus is the best way to be happy in this life. We must love Him, do what He commands and stay close to Him always. We must detest sin, stay away from people, places and things that takes away our joy and make us to remain in bondage. We must go out always to proclaim the Good News in the name of our Lord Jesus Christ and testimonies shall follow us for He has given us the power and authority to conquer all things in His name.
Good morning dearest one. Smile😊as you do your work and do have a wonderful weekend. May the Lord listen to you when you call upon Him and may He restore your joy. Amen. And may the Almighty God bless you: the Father and the Son and the Holy Spirit. Amen.
Meditation: Baruch 4:5-12,27-29/Psalm 69:33-35,36-37/Luke 10:17-24
Watch-Word: Nevertheless do not rejoice in this that the spirits are subject to you, but rejoice that your names are written in heaven.
When you do things in the name of Jesus and to His own glory, you are bound to experience joy as never before. Love Jesus, proclaim Him and your Joy will be unlimited.
Saturday of the 26th Week in the Ordinary Time, Year 1)