A WORD FOR TODAY 6 APRIL 2020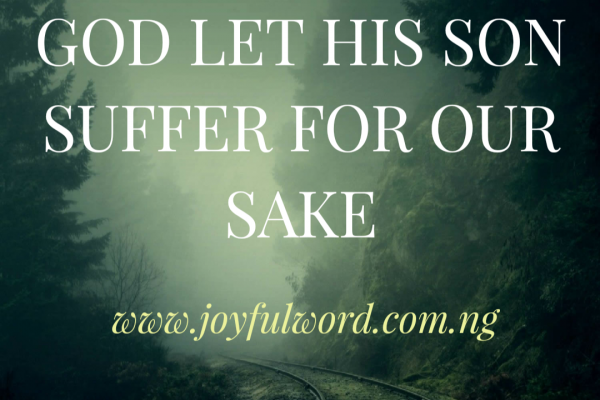 A WORD FOR TODAY
GOD LET HIS SON SUFFER FOR OUR SAKE
"I have given you as a covenant to the people, A light to the nations, to open the eyes that are blind, to bring out the prisoners from dungeon, from the prison those who sit in darkness." (Isaiah 42:6-7)
When we think and reflect about why God let His Son come and die for us on the cross in order to redeem us, it may not make so much sense to a person who does not let the action of Christ permeate into His life.
We may not understand it, but God knows the reason why our salvation should come through the suffering and death of His Son our Lord Jesus Christ. God knows the best and He is always ready to let us know His will if we dispose ourselves to learn from Him._
The prophet Isaiah in the first treading of today talked about the suffering servant of Yahweh. His mission was to bring justice to the world. He was given as a covenant to the people, to bring light to the nations, open the eyes of the blind and release for those in Captivity.*_
God let His Son suffer and die for us simply because He loves us and in order to save us He let our Lord Jesus Christ pay the supreme price at Calvary. He gave everything in Him so that we can be free from the dominion of sin and death. We must not be like the Pharisees who refused to accept Him, instead we should open out heart and receive Him so that the fruits of His death at Calvary will continue to manifest in our lives.
God let His Son die for us, therefore we must love Him more and spend our lives everyday for the good of others. We must lay down our life as a ransom for many. In doing this we will be like Jesus who gave Himself up for our salvation.
We should not betray Him like Judas Iscariot, instead we should console Him through our good works and in the end we will have a place in His kingdom on the last day.
Good morning dearest one. Smile😊and do have a blessed new week. May the suffering and death of Jesus for you on the cross inspire you to always lay down your life for others. Amen. And may the Almighty God bless you: the Father and the Son and the Holy Spirit. Amen.*_
Meditation:* Isaiah 42:1-7/Psalm 27:1-3,13-14/John 12:1-11
*Watch-Word:* The Lord is my light and my salvation
_*God sent His Son to us out of love, we must also place ourselves at the service of others out of love.*_
(Monday of the Holy Week. Cycle A)