A WORD FOR TODAY 6 FEBRUARY 2020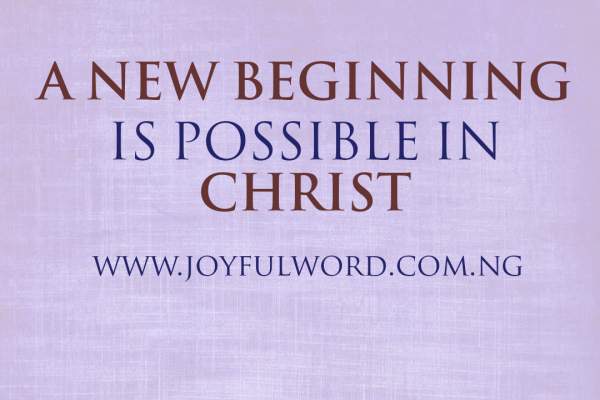 A WORD FOR TODAY
A NEW BEGINNING IS POSSIBLE IN CHRIST
It is a well established fact that those wo decide not to make any effort after they have failed severally may never get to become winners. However, persistence is a virtue that helps us to actualize our goal even when the odds are against us.
Herod in the gospel reading of today was bothered in his conscience with guilt of a crime he committed in the past. He killed John the Baptist in order to please his daughter and look good in the eyes of the people as a man who keeps his words, even when the act is despicable before God and man.
It is only a person with an evil and wicked mind that will urge you on to commit evil against others even when they know that what you do will cause pain and injury to those people.
There is no peace for the wicked as the prophet Isaiah says (Isaiah 48: 22). Herod had no peace, because he failed to repent of his sins and the guilt of his sin continued to haunt him and make him uncomfortable. This will not be the same with us if we humble ourselves, repent of our sins, confess them, return back to Jesus and restore our relationship with Him. In Him, there is the possibility of a new beginning, but for that to happen, you must turn a new leaf, from wickedness and hatred to love and goodness.
Do not let your past sins hold you down from making progress in this life. Come to Jesus and He will help you to begin anew. Yes, you must have made mistakes, but In Christ you will become a new person and you will still be useful for Him and humanity. He shed His blood on the cross for our sake and if we repent, we shall find mercy and forgiveness, we shall have peace of soul and there will be joy in our spirit.
God gave David a new beginning after his fall and Jesus is ready to help you start afresh. Look not on the sins you have committed, but focus more on the ocean of God's mercy and draw closer to Jesus today so that you will be healed and you will begin anew.
Good morning dearest one. Smile😊as you do your work and do have a joyful day. May Jesus' love for you move you to change and become a better person for him and for humanity. Amen. And may the Almighty God bless you: the Father and the Son and the Holy Spirit. Amen.
Meditation: Sirach 47:2-11/Psalm 18:31,47,50,51/Mark 6:14-29
Watch-Word: Blessed be the God of my salvation.
Listen to the voice that speaks inside you, before you act. If it is positive and good, do it, but if it is negative and evil, abandon it.
(Friday of the fourth week in the Ordinary Time, Year II)