A WORD FOR TODAY 6 OCTOBER 2019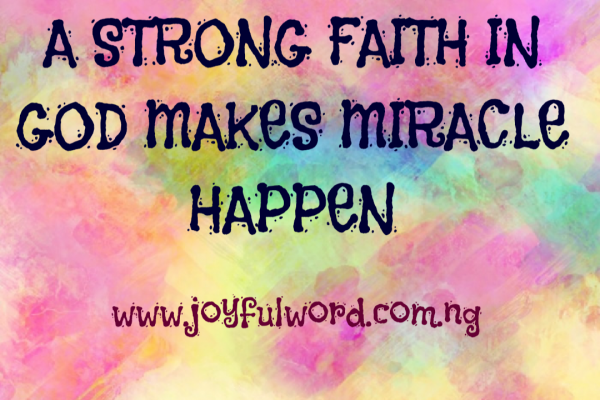 A WORD FOR TODAY
A STRONG FAITH IN GOD MAKES MIRACLE HAPPEN.
There is definitely nothing we can do to please the Lord in this life if we do not have faith. Faith is a supernatural gift which comes from God to us and it is meant to help us to believe without doubt whatever He has revealed. To have faith is to place our total and absolute trust in God at all times and in all circumstances.
The prophet Habakkuk in the first reading of today states that the righteous shall live by faith. This means that who we become in Christ will depend on the amount of faith we have in Him. There is nothing we can achieve in life as Christians if we do not place our trust in God and believe in Him totally to take care of us. The one who has faith can experience suffering and difficulties, but he will never be deterred because he knows that God is ever faithful and will never fail him therefore, he will hold unto him and trust him in good times and in bad.
The disciples of Jesus in the gospel reading of today prayed to Him to increase their faith. This is one of the ways we can receive this wonderful gift. The Scriptures has told us to ask and we shall receive.(Matthew 7:7) They have observed by following Jesus that there is nothing more that will make Jesus happy except to see that they have faith in Him and trust in Him at all times without doubt.
Therefore, if our faith is shaky or we do not have it at all, we can receive it by praying. We must be sincere and humble to ask Jesus to give us a strong faith that will help us to believe in Him and to proclaim His name with confidence. We must build up our faith in Him and let it grow everyday so that we may continue to believe that all things are possible with God.
We can also receive the gift of faith by reading, studying and meditating upon the Word of God. If we nourish our lives with God's Word daily we will be inspired through what we read to come to believe in God who created man and has continued to take care of him from the time of creation. Through the examples of men and women of faith in the Scriptures, like Abraham, the Blessed Virgin Mary, the Centurion, the woman with the issue of blood and so on, we come to believe in God more and seek to have faith like them in order to please the Lord whom we have come to follow and to serve.
Saint Paul admonished Timothy in the second reading of today to fan his faith and gift of God in him into flame. This is very true, because when we do not make effort to grow our faith by feeding our soul and nourishing it with God's word, we shall be empty and the things we do or say will not have any connection to God, but earthly and worldly.
Faith is important in whatever we are going to achieve in life for God and humanity. As people of faith we must stay close to Jesus everyday and that will help us to grow in our faith. Everything is possible for a man or woman of faith. We will do exploits in God's name and miracles happen when we pray with faith and believe in the power of God to transform our situation.
If our faith must be strong we must do the things that will increase it and not decrease it. We must make friends with people who will help us grow in it. We must avoid doubt and fear, but believe always that God can do all things and continue to believe in Him whether we receive what we are praying for or not.
A man or woman of faith listens to God and acts in a accordance with with His command. God is the one who has give us the grace to be who we are. We are simply servants of God and must always let Him be in charge and guide us in the right path that will bring us peace and happiness. Where is your faith? How rich is your faith? Build it up everyday and you will have strength to do more for God and humanity.
Good morning dearest one. Smile😊as you begin your day and do have a splendid Sunday. May Jesus increase your faith so that you will do more exploits in His name. Amen. And may the Almighty God bless you: the Father and the Son and the Holy Spirit. Amen.
Meditation: Habakkuk 1:2-3;2:2-4/Psalm 95:1-2,6-9/2 Timothy 1:6-8,13-14/Luke 17:5-10
Watch-Word: O that today you would listen to his voice, harden not your hearts.
It is not enough to say and claim that you have faith, you must show it in the works that you do, for faith without work is dead. Faith in action is the way to go.
(27th Sunday in the Ordinary Time, Year C)