A WORD FOR TODAY 7 FEB 2019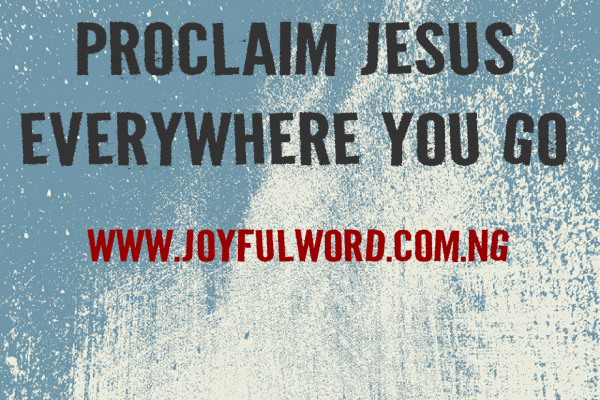 A WORD FOR TODAY
In the presence of the Lord there is fullness of Joy and anytime we have opportunity to come before Him, we must see it as mount Zion where God dwells and where Jesus is the mediator of the new covenant. Heaven is our target and we must keep it as our hope in view as we pass through the struggles of life.
We have a role to spread God's Good News everywhere just like the apostles, but if we are going to do it well we must make sure that we stay closer to Jesus always.
The essence of proclaiming the message of the gospel is to win souls for God and save them from eternal damnation. We have been redeemed by Christ and we must let Him make use of us to bring others closer to Himself._
Jesus is still saving people and whoever returns to Him by way of repentance will find salvation and eternal life. The power that Jesus bestowed on the apostles is one that will help them to proclaim His name without fear and to bring His healing on the sick and deliverance to the captives. We have the same power as baptised children of God and we should not fail to put it into good use always.*_
In this mission of proclaiming the Good News, our total dependence must be on God who will provide us with all we need in order to carry out our task well. We must be ready to make sacrifices just like our Lord Jesus Christ in order to be able to live up to our responsibility as God's children.
Draw closer to Jesus always, repent of your sins and then make yourself available to Him so that He will use you as an instrument of repentance to others who are still living in sin.
Good morning dearest one. Smile😊as you do your work and do have a wonderful day. May you never lack the zeal to proclaim the name of Jesus always and may heaven be your reward on the last day. Amen. *And May the Almighty God bless you: the Father and the Son and the Holy Spirit. Amen.
*Meditation:* Hebrews 12:18-19,21-24/Psalm 48:2-4,9-11/Mark 6:7-13
*Watch-Word:* The kingdom of God is at hand, repent and believe the gospel!
God is always available to receive us, but most times we are not available to come to Him. Make yourself available and God will make use of you.