A WORD FOR TODAY 7 JULY 2019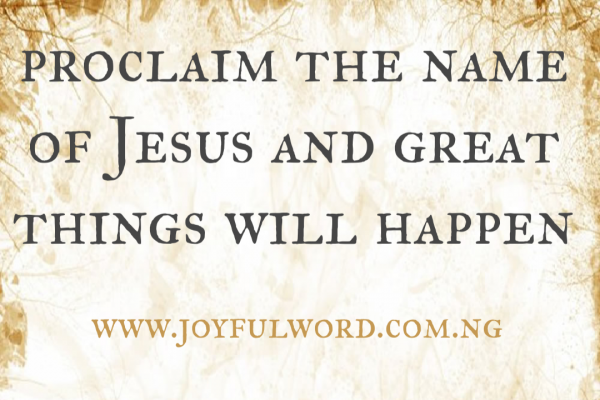 A WORD FOR TODAY
We can only make a meaningful impact in our mission if we operate under the mandate and instruction of the One who sent us. Jesus gave the disciples the task of going out to preach the Good News, but it must be at His own terms and not as they want to.
Therefore, if our proclamation of the Good News must bear fruits, we must obey God's word and act in accordance to it. We must concentrate on the task of proclaiming Christ and not focus on material gain. God will take care of us as we labour in His vineyard and His reward will be better than anything we will plan for ourselves in the course of our work.
Jesus sent them out to go and proclaim the Good News in His name. They will go out as ambassadors of peace, healing and restoration. They will operate under the guidance of the Holy Spirit who will help them to stay focused on the mission and carry it out in accordance with God's word.
We have all been chosen by Jesus either as clergy or the lay faithful to go out on mission to proclaim Christ. However, the important question that will come to mind today is, how are you proclaiming it and what are you proclaiming? If you are not proclaiming Christ it means you have missed the mark and you must turn around and stay focused on the mission so that in the end you will receive the reward of eternal salvation.
God is the one who will make our work to be fruitful and He is the one who will bless and reward us. However, for this to happen we shall focus on the task at hand and proclaim His name everywhere in words and deeds and our names will be written in heaven in gold on the last day. We must remain humble as we work for Him and remove everything that will make us entertain pride so that we will be fit for the reward when it comes.
Good morning dearest one. Smile😊as you begin your day and do have a glorious Sunday. May Jesus help you to proclaim Him well in this life so that your name will be written in heaven. Amen. And may the Almighty God bless you: the Father and the Son and the Holy Spirit. Amen.
Meditation: Isaiah 66:10-14/Psalm 66:1-7,16,20/Galatians 6:14-18/Luke 10:1-12,17-20
Watch-Word: I bear on my body the marks of Jesus.
God has called you to come and serve Him. Accept His invitation and serve Him with your heart and He will bless you immensely.