A WORD FOR TODAY 7 JUNE 2019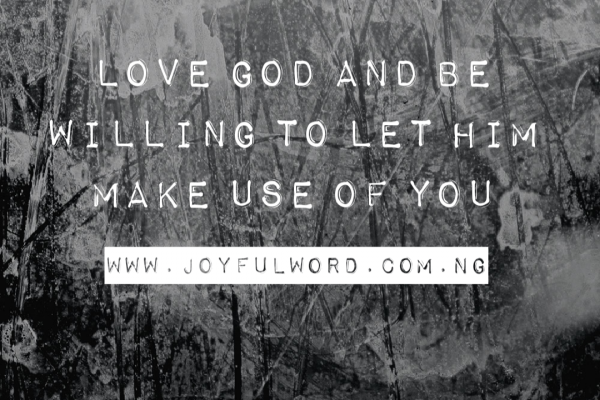 A WORD FOR TODAY
Today in the gospel reading Jesus calls Peter to affirm His love for Him. Just as Peter denied him three times before His death, he now comes to him after the resurrection a changed man and affirmed his love for Him.
Sometimes our actions and behaviour disappoints God and we fail. We tend to do the things that does not glorify His name, infact, we betray and deny Him before the people. We must not remain in sin when we have fallen, instead, we should rise up like Peter, be remorseful of our sins, ask for forgiveness and begin anew.
Expression of our love for God must go beyond words and been seen in our actions. When we say that we love God, we must show it in our deeds and in our willingness to lay down our lives for His sheep. We must be ready to die for His sake just as He died for us.
In the first reading of today we see saint Paul go through his trials that will later culminate in his death. He did nothing wrong except that he was proclaiming the risen Christ and for that he was jailed and was eventually killed. The Holy Spirit gave him the courage to remain steadfast till the end and he won the crown of eternal life.
How deep is your love for God and how far are you willing to go in working for Him. We must follow the example of saints Peter and Paul, who in spite of their weaknesses, did not relent in changing, made amends and became better instruments in the hands of the Lord for the salvation of souls.
The Holy Spirit will help us to love God deeply and to be ready to carry out any task He will assign to us in a manner that will be pleasing to Him. Open your heart today to Him and let Him use you for His own glory.
Good morning dearest one. Smile😊as you do your work and do have a blessed day. May God's love move you to love Him more and to be ready to lay down your life for His sake. Amen. And may the Almighty God bless you: the Father and the Son and the Holy Spirit. Amen.
Meditation: Acts 25:13-21/Psalm 103:1-2,11-12,19-20/John 21:15-19
Watch-Word: Do you love me more than these!
To love Jesus comes with a responsibility. Find out what the Lord wants you to do for Him, do it and you will be happy.