A WORD FOR TODAY 7 NOVEMBER 2019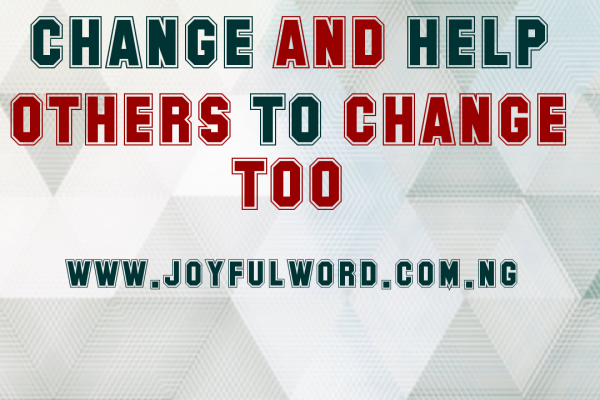 A WORD FOR TODAY
CHANGE AND HELP OTHERS TO CHANGE TOO
The reason Christ came into the world was to seek and save those who are lost in sin so that they could find redemption. Everything He did from His birth to death was geared towards the salvation of man. He showed us mercy and forgave our sins and we are also expected to learn from Him to show mercy to others.
The parable of the lost sheep and the lost coin explains to us how God treats us when we go astray or fall into sin. He goes in search of us and when He eventually finds us, He is happy and there is joy in heaven. Therefore, the best way to make God happy is to repent of our sins and to help others to repent also.
Sin seperates us from God and if we continue in sin we shall die, but if we hearken to His voice and turn away from our sins and return back to Him, we shall find life and live. God is ready to show us mercy and forgive us if we are ready to detach ourselves from the things that have made us to stray from Him. If we love God, whether alive or death we shall belong to Him for we shall live a life worthy of our calling as children of God.
God gives us opportunity to change from time to time and if we take it and change our ways, we shall find life and be happy once again. God is searching for us and if we make ourselves available, He will find us and help us to change, so that we could become instruments of transformation for others who are yet to come to know Him.
Repentance and conversion is something that must happen everyday, because we must draw closer to Jesus in love on a daily basis. Anytime we stay away from Him, we will begin to go astray, but if we attach ourselves to Him and do as He has commanded we shall live a holy life and it will make Him happy.
We have a mission to help to win souls for Christ. We must help those who are lost to find their way back to Jesus. We must not judge them, but through our love and care show them the light of Christ so that they can come home to where they will find joy and peace.
Good morning dearest one. Smile😊as you do your work and do have a wonderful day. May God's love and mercy move you to repentance and when you change, may you help others to find Jesus also. Amen. *And may the Almighty God bless you: the Father and the Son and the Holy Spirit. Amen.
Meditation: Romans 14:7-12/Psalm 27:1,4,13-14/Luke 15:1-10
Watch-Word: Come to me all who labour and are heavy laden, and I will give you rest.
When God's love transforms you, you will become an instrument of transformation in God's hand. The repentance of a sinner, makes heaven to rejoice.
(Thursday of the 31st Week in the Ordinary Time, Year 1)